Tejada Overshadowed Collins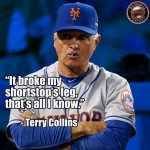 The focus on Game 2 was Chase Utley's dirty "slide" breaking Ruben Tejada's right leg. The focus was on MLB not knowing its own rules. The focus wasn't on Collins.
Personally, I would not have started Noah Syndergaard in the seventh, but I can understand why Collins' did it. I agree with Collins pulling Thor when he did. I can't comprehend one decision he made after that.
First, let's remember the situation. The Mets were leading 2-1. There were runners on first and second with one out. Sac fly ties the game. Collins goes to the bullpen to bring in Bartolo Colon?!?!?!? Sure, Colon is a veteran, and you want to trust your veterans, but Colon?
Colon doesn't strike anyone out anymore. His K/9 is a very low 6.3. Also, he gives up a lot of flyballs. You don't want that when the tying to is on third with less than two outs. Colon actually got the ground ball, and a terrific play by Daniel Murphy. However, we happened next.
In any event, Colon, your long man in the pen, was only used for one batter. He was then lifted, so Collins could bring in Addison Reed. This is the same Reed who two seconds ago was not good enough to bring in to get out of the inning. Now, you're bringing him in to face Adrian Gonzalez, who is 1-2 with a walk against him.
Now, I know it's a small sample size, but that's part of the larger point. They played in the same division for two years. How is it possible they only faced each other three times. Someone, somewhere knew Reed couldn't get Gonzalez out. Reed didn't in Game 2. He gave up a two ru double to Gonzalez turning a 2-1 lead into a 3-1 deficit.
Still in the bullpen was Jon Niese, who has pitched well to Gonzalez. Gonzalez is 0-9 against Niese. If Niese isn't pitching to Gonzalez than why is he in the bullpen? It dissent make sense especially when you consider Niese would eventually come on in that fateful seventh inning.
There was a lot going on at the time, but we all missed Collins make two huge gaffes in the seventh inning. That, along with the bad bullpen, the umpires, and the replay officials cost the Mets the game.