Replays Show MLB Doesn't Know the Rulebook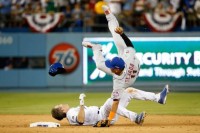 It all came down to the seventh inning. Terry Collins pushed Noah Syndergaard a little too far. Thor left the game after 6.1 innings with runners on first and third.
Puzzlingly, Collins would bring on Bartolo Colon. Colon induced a ground ball, and Daniel Murphy made a nice play. He flipped the ball to Ruben Tejada, and I'm not sure what happened next:
Chase Utey epitomizes what it means to be a scumbag pic.twitter.com/V2UwSjUzah

— Mets Citi (@metsciti) October 11, 2015
You see, the umps ruled Chase Utley safe. No, seriously. They called him safe. You see Tejada missed the bag. It doesn't matter that Utley didn't touch the bag. It doesn't matter he didn't begin his slide until after the out call was made. MLB will pick and choose which rules they will enforce:
https://twitter.com/chisportsfan03/status/653057143520686080
@AndyGlockner @jareddiamond even more so the explanation why… pic.twitter.com/kGMuZyoVvo

— John Willey (@jdubs44) October 11, 2015
Here's another angle:
https://twitter.com/athwayoflife/status/653063091614183424
That's right, if the rule was properly enforced, it's an inning ending double play. Instead, Utley is ruled safe, and Tejada is done with a broken right fibula.
Speaking of a double play, the umpires ruled that it was not a neighborhood play because Murphy's throw pulled Tejada off the bag. No, seriously. The fact that Tejada thought he touched second and began to spin to throw to first wasn't indicative that there was a double play chance.
Yes, I know the Mets bullpen, lead by Addison Reed imploded. The bullpen was handed a 2-1 lead courtesy of Yoenis Cespedes and Michael Conforto homeruns. The game ended there. It became a 5-2 loss.
The Mets bullpen failed. The umpires failed. Replay failed. MLB failed.