Mets Used Mo Familia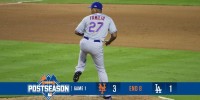 One of the reasons I had confidence in Terry Collins in the playoffs was his willingness to use Jeurys Familia for more than three outs to close out a game. This season Familia did it more than anyone.
Familia is by far the best reliever on the Mets. In my opinion, he was the best relief pitcher in baseball. When the game is on the line, you want your best guy out there. Don Mattingly didn't, and Terry Collins did. So yes, Mets fans, Collins out managed Mattingly and had a direct impact on why the Mets won.
You can quibble with Tyler Clippard starting the eighth. I don't think it's fair because Clippard has been good with the Mets. Regardless, Collins was prepared. Once Clippard got into trouble, he went to Familia with two outs in the eighth. Familia got out of the jam and pitched a perfect ninth for the save. Moves like this are why Joe Torre is in the Hall of Fame, and Mariano Rivera will be one day.
Am I comparing Familia to Rivera? No. Not yet at least. Rivera was as dominant as you can ask in the playoffs. He was 8-1 with 42 saves, a 0.70 ERA, and a 0.759 WHIP. He's averaged 1.1 innings per postseason appearance. He was the 1999 World Series and the 2003 ALCS MVP. He was everything you wanted your closer to be.
Does Familia need to equal these numbers to be successful in the postseason? Of course not. He just needs to be himself. He's a closer that can go multiple innings. He can come on in the middle of an inning to get out of a jam. He can generate groundballs. He strikes out more than a batter an inning. He's built for the playoffs.
Rivera had an amazing career. He was even better in the playoffs. This season Familia showed he was capable of being a great closer. Last night, he didn't shrink from the moment. Rather, he was, at a minimum, as good as he was in the regular season.
As the playoffs and his career go on, I can't wait to see Mo.