Terry Collins is the Right Man to Lead the Mets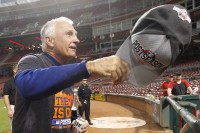 I have questioned Terry Collins' abilities as a tactician. I've seen him at his best in the biggest games of this season. Overall, his biggest strength is he's a good man that is good with the media.
Now, I don't mean Jerry Manuel good with the media. I mean actually good with the media. He's honest. He disarms with his bluntness and humor. He takes the heat, so his players won't. He seemingly always has his players' backs.
He's also good in the clubhouse. With the Mets languishing in May, June, and July, he kept the team from falling apart. I still don't know how he did it. The funny thing is before his stint with the Mets, he was divisive in the clubhouse. The Angels players forced him to resign. It's clear Collins learned from his past experience while still being an old school baseball man.
It's a good thing because he was needed this week. When Matt Harvey missed a workout, Collins told everyone he's handling it, and he considered the matter over. He acknowledged the mistake, but he told everyone not to blow it out of proportion. When it came up on subsequent days, Collins made jokes about the situation:
Collins laughing off Harvey stuff a day later: "We're going to make sure Matt gets on the plane today. We'll get him on board." #Mets

— Anthony DiComo (@AnthonyDiComo) October 7, 2015
If handled improperly, this could've been a bigger issue. He turned it from a serious matter to a joke. He was a tremendous leader this week. No, he's been a tremendous leader all season. It's even more impressive when you consider he's a lame duck manager.
Now we need him to go out there tonight and manage a baseball game. At times, he's shown he can be an excellent tactician. The Mets are going to need that Collins in what appears to be a close series. In any event, the Mets are here in large part because of Collins.
He's waited his whole career for this moment. I hope he enjoys it. He's earned that right.