Wright's Moment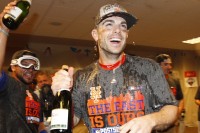 Given that today is Trivia Friday, here's another question for you. Who was the last Mets player to knock in a run in the playoffs? If the title didn't give it away, the answer is David Wright.
Seriously, how many Mets fans remember that Wright knocked in Carlos Beltran to give the Mets a 1-0 lead in the first inning of Game 7 of the 2006 NLCS? I doubt many because most people focus on his .160/.276/.320 line in the NLCS. They choose not to focus on the RBI or his .333/.385/.500 line in the 2006 NLDS. Instead the narrative became Wright isn't clutch.
In 2000, I remember similar rumblings being uttered about the then face of the Mets franchise, Mike Piazza. Up until 2000, Piazza was not seen as a playoff performer. That perception did not change with his homerun against John Smoltz in Game 6 of the 1999 NLCS. Rather, it changed when he hit a double with third base coach John Stearns proclaiming over and over again, "The monster is out of the cage!"
Piazza would hit extremely well in the 2000 playoffs. He hit .214/.389/.286 in the NLDS. He hit .412/.545/.941 (video game numbers) in the NLCS. He hit .273/.273/.636 in the World Series. Overall, he hit six doubles, four homeruns, and eight RBIs. Not too bad for a career .242/.301/.458 postseason hitter.
I wasn't surprised by Piazza in 2000. He hit .324/.398/.570 with 32 homers and 111 RBIs. He is a career .3o8/.377/.545 hitter. I expected Piazza to hit in 2000. It was only a matter of time before he busted out in the playoffs. I'm expecting Wright to perform just as well.
Sure, his 2006 playoff numbers were not good. However, he is a career .298/.377/.492 hitter. Since returning from his back injury, Wright has hit .277/.381/.437 with seven doubles, four homeruns, and 13 RBIs. Like Piazza, it's his team. Like Piazza, it's his moment. Like Piazza, I'm expecting him to perform.
Wright is capable of doing it. He's the face of the franchise. He's the guy who stayed. He's the Captain of the team. He's chasing a World Series ring. It's his time. It's his moment.
If he performs like we know he can, it'll be his World Series ring.