Murphy is Clutch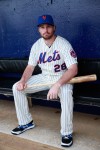 It may be hard to believe this, but this is the second time, Daniel Murphy is in a pennant chase. The first time was in 2008, when the Mets desperately needed another bat (sound familiar?).
In 2008, the Mets had various injury issues (sound familiar?), and they rushed Murphy to the majors (sound familiar?). If you remember, this wasn't a fun season. They were coming off a historic collapse, fired Willie Randolph after flying out to California, and they hired the man who back stabbed him to get the job. Just when you thought things couldn't get worse, there were the press conferences (that the Mets couldn't stop hyping):
One of the few bright spots of that season was Murphy. As we now know, he was a terrific hitter. In 2008, he hit .313/.397/.473. With this he got his foot in the door, and he was named the starting LF the next year. We know how that worked out.
However, we also know he's a good hitter. Ironically, with him presumably having one foot out the door, he's finally in a pennant race again. Again, he's producing. In the second half he's hit .292/.330/.448 (as compared to .277/.331/.405 in the first half). He's also answered the call to play all over the infield due to injuries to different players or platoon splits.
Ultimately, Murphy is going out the way he came in . . . by doing everything he can to get the Mets into the playoffs. I hope he succeeds this time.