Game Two Pitching Matchup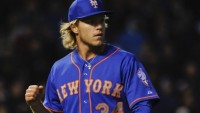 Yesterdsy, I looked at how the Mets fared against Clayton Kershaw. Game Two promises to have its own pitcher's duel between Zack Greinke and Noah Syndergaard.
That means if the Mets want/need to win Game Two, they will need to get some runs off of Greinke or get into the Dodgers bullpen. With that said, here's how the Mets have fared against Greinke:
Starting Lineup
Curtis Granderson 10-52 with 2 doubles, 2 triples, 1 HR, 3 RBIs, and 11 Ks
David Wright 3-9 with 1 double and 2 Ks
Daniel Murphy 4-13 with 2 BBs and 1 K
Yoenis Cespedes 1-5 with 1 BB and 1 K
Lucas Duda 3-12 with 1 HR, 1 RBI, 2 BBs, and 4 Ks
Travis d'Arnaud 0-0
Michael Conforto 0-2 with 1 RBI and 1 K
Ruben Tejada 0-6 with 1 K
Combined 21-99 (.212 BA) with 5 BBs (.274 OBP), 3 doubles, 2 triples, 2 HRs (.343 slugging), 5 RBIs, and 21 Ks
Bench
Kevin Plawecki 2-6 with 1 double and 1 K
Wilmer Flores 3-8 with 1 K
Kelly Johnson 0-9
Michael Cuddyer 10-40 with 1 double, 1 HR, 7 RBIs, 2 BBs, 10 Ks
Juan Lagares 1-8 with 1 HR, 3 RBIs, and 1 K
Kirk Nieuwenhuis 1-5 with 1 K
Combined 17-76 (.224) with 2 BBs (.244 OBP), 2 doubles, 2 HRs (.329 slugging), 10 RBIs, and 14 Ks
Team Totals 38-175 (.217 BA) with 7 BBs (.241), 5 doubles, 2 triples, 4 HRS (.337 slugging), 15 RBIs, and 35 Ks
Obviously, the .215/.241/.337 line indicates the Mets don't hit Greinke well, but then again who does? Greinke has limited batters to .187/.231/.276 this year. So, the Mets do hit Greinke than the league as a whole.
This goes especially for the top of the Mets lineup. Granderson, Wright, and Murphy have historically hit Greinke very well. If the Mets want to score runs, it's going to have to start at the top.
As far as Syndergaard goes, he's only faced the Dodgers once, and it was at Dodger Stadium. In that game, he pitched six innings allowing two hits, one earned, two walks, and six strikeouts. He got a no decision, but the Mets went on to a 2-1 win. That game was against Kershaw.
Thor is certainly capable of repeating that performance. In his last four starts, he's had a 2.93 ERA, a 0.651 WHIP, and a 12.0 K/9. In this stretch, he's limited opposing hitters to .163/.188/.337. He's the key to everything. He's primed for this playoff run.
It's strange to say I'm confident the Mets can pull a game out against Greinke, but Thor gives me that confidence. I can't wait for him to take the mound Saturday night.