Bullpen Advantage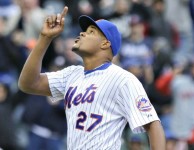 Everyone is expecting great starting pitching in the NLDS. As seen earlier today, Jacob deGrom is as good against the Dodgers as Clayton Kershaw has been against the Mets. Potentially, this means the starting pitching will cancel each other out creating a battle of the bullpens.
Working backwards (using ESPN's depth chart) the Mets and Dodgers each have terrific closers:
Jeurys Familia 2-2, 43 saves, 1.85 ERA, 1.000 WHIP, 9.9 K/9 (.207/.261/.309)
Kenley Jansen 2-1, 36 saves, 2.41 ERA, 0.783 WHIP, 13.8 K/9 (.176/.215/.298)
However, after that, the Mets have the better set-up men (note these numbers are the numbers with the team only):
Addison Reed 1-1, 1 save, 1.17 ERA, 1.043 WHIP, 10.0 K/9 (.200/.267/.273)
Tyler Clippard 4-1, 2 saves, 3.06 ERA, 1.052 WHIP, 7.2 K/9 (.200/.287/.336)
Jim Johnson 0-3, 1 save, 10.13 ERA, 2.036 WHIP, 8.2 K/9 (.381/.422/.524)
Carlos Frias 5-5, 4.06 ERA, 1.468 WHIP, 5.0 K/9 (.297/.356/.405)
This is a major advantage. If the Mets can stop the game from getting from the starter to Jansen, they can put runs on the board. However, according to Baseball Reference, the Dodgers have reshuffled their bullpen:
Juan Nicasio 1-3, 1 save, 3.86 ERA, 1.560 WHIP, 10.0 K/9 (.263/.358/.384)
Yimi Garcia 3-5, 1 save, 3.34 ERA, 0.953 WHIP, 10.8 K/9 (.209/.249/.346)
Pedro Baez 4-2, 3.35 ERA, 1.137 WHIP, 10.6 K/9 (.247/.288/.405)
These are much better, but hittable right handed pitchers. The Dodgers only have one left handed reliever right now, J.P. Howell, which means Terry Collins will get to pick and choose his spots with Michael Conforto, Kelly Johnson, and Kirk Nieuwenhuis. The Mets have a major matchup advantages in the late innings.
The bullpen disparity and Mets roster construction is the biggest reason I believe the Mets can and will win this series.
Update: Johnson is not on the roster.
Reliever Jim Johnson won't be on roster. Has been sent home "out of respect." "Didn't see him as next man up" so not sent to complex in AZ

— Bill Plunkett (@billplunkettocr) October 7, 2015