Dodgers Against deGrom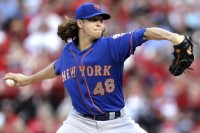 Earlier today, I covered how the Mets have fared against Clayton Kershaw. In Game One, Kershaw is going up against Jacob deGrom, and we're expecting a pitcher's duel.
From the earliest post, we learned that while Kershaw has dominated the Mets, like he does every other team, the Mets have fared better against him than the average team. Here's how the Dodgers have fared against deGrom:
Starting Lineup
Carl Crawford 0-3 with 2 BBs and 1 K
Howie Kendrick 0-3 with 1 K
Adrian Gonzalez 3-8 with 2 HRs, 5 RBIs, 1 BB, and 3 Ks
Yasiel Puig 1-6 with 1 HR, 1 RBI, and 3 Ks
Andre Ethier 2-6 with 1 triple and 1 K
Corey Seager 0-0
Justin Turner 0-5 with 1 K
Yasmani Grandal 0-3 with 1 K
Combined 6-38 (.158 BA) with 2 BBs (.200 OBP) with one triple, three HRs (.447 slugging), 6 RBIs, and 12 Ks
Bench
A.J. Ellis 0-2 with 2 BBs
Jimmy Rollins 1-8 with 1 BB and 2 Ks
Chase Utley 3-10 with 2 BBs and 1 K
Enrique Hernandez 0-0
Joc Pederson 0-3
Ronald Torreyes 0-0
Combined 4-23 (.174 BA) with 5 BBs (.321 OBP), no extra base hits (.174 slugging), and 3 Ks
Team Totals 10-61 (.164 BA) with 7 BBs (.250 OBP), 1 triple, 3 HRs (.344 slugging), 6 RBIs, and 15 Ks
So overall, the Dodgers have not hit deGrom well with the exception of Gonzalez, Ethier, and Utley. It also seems that when the Dodgers get to deGrom, they hit him hard. As long as deGrom can keep the ball in the ballpark, the Dodgers are going to really struggle to score runs.
deGrom was amazing this season. He was the Mets ace. He's shown he's unhurt able when he's amped up. He's limited hitters to .215/.255/.318. He's primed and ready to hold up his end of the bargain in an anticipated Game One pitcher's duel.
Against Kershaw, you normally do not have much hope. The Mets will because their pitcher is just as deGrominant.