Mets Against Kershaw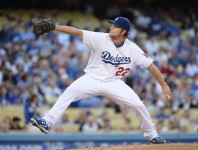 This series comes down to the Mets stud muffins against Zack Greinke and Clayton Kershaw. There could be a lot of 2-1 and 1-0 games. After Kershaw's last game against the Mets, it's hard to believe they can even hit him.
However, that game was in July. The Mets clean-up hitter was John Mayberry, Jr. Since that time, the Mets have added Yoenis Cespedes, Travis d'Arnaud, and David Wright to the lineup. Here's how the current Mets lineup has fared against Kershaw:
Starting Lineup
Curtis Granderson 1-10, 1 BB, 1 K
David Wright 3-14, 1 double, 1 RBI, 4 BB, 2 Ks
Daniel Murphy 3-10 with an RBI
Yoenis Cespedes 0-3
Michael Cuddyer 4-16 with 2 RBIs and 3 Ks
Lucas Duda 1-10 with 1 BB and 7 Ks
Travis d'Arnaud 0-0
Ruben Tejada 5-14 with 3 BBs and 3 Ks
Combined 17-77 (.220 BA) with 9 BBs (.302 OBP), one double (.234 slugging), 4 RBIs, and 16 Ks
Bench
Wilmer Flores 3-6 with 1 RBI and 1 K
Kelly Johnson 3-15 with 1 HR, 2 RBIs and 5 Ks
Michael Conforto 0-0
Juan Lagares 0-7 with 1 K
Kirk Nieuwenhuis 0-0
Kevin Plawecki 0-3 with 1 K
Combined 6-31 (.194 BA & OBP) with a HR (.290 slugging), 3 RBIs, and 7 Ks
Team Totals 23-108 (.213 BA) with 9 BBs (.274 OBP), 1 double, 1 HR (.250 slugging), 7 RBIs, and 23 Ks.
This season Kershaw allowed batters to hit .194/.237/.284. Therefore, arguably, the Mets as a team have hit Kershaw better than the rest of the league. However, the truth really is Kershaw has dominated the Mets.
Looking over the numbers, the Mets would be best served by sitting Duda, moving Murphy to 1B, and letting Flores play 2B. I'm not sure the Mets will do that. They se inclined to put Duda out there.
This leaves the Mets hoping they can work the count to get to an awful Dodgers bullpen. The other Hope is Kershaw reverts to being a bad playoff pitcher. Kershaw is 1-5 with a 5.12 ERA and a 1.235 WHIP.
Either way, the Mets have as good a chance as anyone to beat Kershaw.