There's Reason to Hope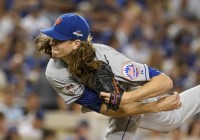 The Mets have to play a do or die Game 5 at Dodger Stadium against Zack Greinke. It's a seemingly daunting task, but the Mets are more than capable of winning this game and going home to Citi Field for the NLCS.
First, the Mets had Greinke beat at Dodger Stadium. We don't need to go back there, but the Mets had a 2-1 lead in the seventh inning before all mayhem broke lose followed by some curious managerial decisions by Terry Collins. If none of this happened, it would've been the second time the Mets beat him.
Second, the Mets have Jacob deGrom. He's coming off a deGrominant Game 1 performance. The Dodgers hitters couldn't touch him. They couldn't hit him before the playoffs. There's no reason to believe they'll hit him now.
Third, for some reason, home teams are ponderously bad in Game 5's at home:
Home teams are 4-12 in LDS Game 5s since 2002.

I have no explanation for this.

— Mark Simon (@MarkASimonSays) October 14, 2015
I'm not sure why this is the case, but I'll take it. Sure, you could argue that the Dodgers won't be susceptible to the same fate because they have Greinke, but history shows that may not be the case:
@msimonespn Some pitchers that lost LDS Game 5's Price, Halladay, Cole, Mulder, Hudson, Zito, Mussina, Gray

— Mets Daddy (@MetsDaddy2013) October 14, 2015
Anyone can lose a Game 5. Funny things can happen in a do or due game. The Mets have the better overall team. They have more weapons on offense. They just need deGrom to be deGrom.
There's legitimate hope the Mets can win Game 5. I think they're going to do it.