If Mets Lose it Won't Be because of Utley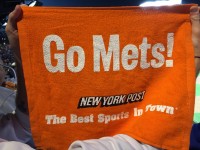 We all know that the coward's "slide" had a profound impact upon Game 2. If the play is called properly, Chase Utley is ruled out, and it's and inning ending double play. The Mets lead 2-1 going into the eighth. We don't know what happens from there.
We do know that the game was tied at 2-2. I believe the Ruben Tejada injury weighed on the team that night. It's hard to do your job when someone you care about is sick or injured. Athletes are no different. It may explain the strange decisions Terry Collins would subsequently make.
Even if I concede the Mets lost Game 2 because of the play, it does not mean the Mets lose two more games. Tejada was playing well, but he's not the most important piece. He's not the reason David Wright and Lucas Duda have failed to hit. It's not the reason why Clayton Kershaw was so dominant yesterday.
Unless Game 5 comes down to a Ruben Tejada defensive miscue or Matt Reynolds having to do anything, you can't point to Tejada's injury. No, Game 5 is going to come down to whoever the best team is tomorrow. It won't have anything to do with Utley's play in Game 2. In fact, since he won't come off the bench, he may not be a factor at all.
I think the Mets are the better team, and I think they win tomorrow.