2015 NLDS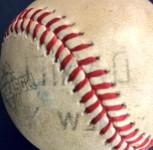 Coming into theses playoffs, the focus has been on David Wright and the Mets young pitching. However, there hasn't been much attention to a homegrown Met who has waited his whole career for this moment. Daniel Murphy.
He was first called up in 2008 because he could take. The Mets called him up to help save them from a second collapse. Murphy held his end of the bargain even if the rest of the team didn't. He spent the next eight years on losing teams trying to prove he was a major league second baseman.
He worked hard, and he eventually became an All Star second baseman. This year he's the starting second baseman for a playoff team. He's finally here after coming so close eight years ago. He quickly made an impression by hitting a homerun giving the Mets the lead in an extremely tight game:
Daniel Murphy made sure everyone knew who hit this home run: http://t.co/TCjcMpoPoX pic.twitter.com/0G3AfCsAht

— Cut4 (@Cut4) October 10, 2015
In the ninth, he made a tremendous play to help the Mets preserve the 3-1 win:
Murphy brought his bat and his glove to the park last night. #Mets #LGM pic.twitter.com/Ku1ATIGl2t

— New York Mets (@Mets) October 10, 2015
Overall, the biggest impression he might've made was on the homerun ball:
Daniel Murphy hit the ball so hard his name was imprinted on it. (via @Mets) pic.twitter.com/dtiOTKJOba

— SportsCenter (@SportsCenter) October 10, 2015
That's right. He hit the ball so hard, he left his name on it. After toiling for eight years with mediocre to bad teams, he literally made an impression. He's been doing it with the Mets. Hes now doing it in the playoffs.
I can't wait to see how he makes his next impression during this playoff run.