Well That Was Disappointing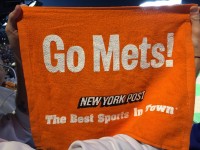 Honestly, I thought the Mets were going to find a way yesterday. I really did. Even going into the bottom of the ninth, I thought they were going to do it.
The main reason the Mets lost last night was Clayton Kershaw was Clayton Kershaw. He pitched 7.0 innings pretty much allowing only a Daniel Murphy fourth inning homerun. My fears came true. However, the Mets were far from perfect, and they didn't capitalize on their chances.
First, Kershaw threw 94 pitches. Of those 94 pitches, 64 of them were strikes. One of of looking at that is saying, Kershaw was on, and when he's on what can you do? However, there is another point to consider. Of those 64 strikes, only were 15 of them were looking. That means the Mets came up swinging. They came up swinging when you wanted to work deep counts to get Kershaw out of the game early.
It shouldn't be all that surprising that Steven Matz couldn't keep up with Kershaw. Very few can. I know I'm in the minority, but I don't think he was that good. There were a lot of hard hit balls. He couldn't get the big out in the third.
The game winning rally started because Matz got too cute with Kershaw. I realize he allowed a broken bat RBI single to Adrian Gonzalez, but that's where you bear down. You're facing Kershaw. You have to know a crooked number in this inning means the game (it did). He then allowed a two run RBI double to Justin Turner (aided by a misplay by Yoenis Cespedes in left). Ballgame.
The Mets rallied a few times, but they couldn't get that big hit. It was frustrating. It is even worse when it happens in the playoffs. It could've been the clincher. Now, the Mets play a do or die game in Lis Angeles. I still like the Mets chances with Jacob deGrom.