Kirk Nieuwenhuis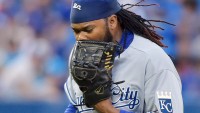 Sometimes, there's no rhyme or reason for things. I think this sums up Johnny Cueto's 2015 season. He went from a hitters' ballpark with poor defense to a pitchers ballpark with terrific defense and got worse. It doesn't make sense especially when you consider he left the best division in baseball for one of the worst.
With the Reds, Cueto averaged 6.2 innings per start going 7-6 with a 2.62 ERA, 3.20 FIP, 0.934 WHIP, and a 8.3 K/9. With the Royals, he averaged 6.0 innings per start with a 4.76 ERA, 4.06 FIP, 1.461 WHIP, and a 6.2 K/9. Sure, he was incredible in the clinching game of the NLDS, but his two other starts were terrible. In Game Three of the ALCS, he took the loss allowing six hits, eight earned, four walks, and two strikeouts over two innings.
Historically, Cueto hasn't faired well against the Mets either. In his career, he is 3-4 against the Mets with a 4.02 ERA, 1.369 WHIP, and a 10.0 K/9. At Citi Field, he is slightly better with a 2-2 record, 3.60 ERA, 1.267 WHIP, and a 10.5 K/9. The Mets will face him at Kauffman Stadium in Game One. There he is 3-5 with a 3.88 ERA, 1.294 WHIP, and a 6.9 K/9. He's prime to get hit by the Mets. The only issues is how do these Mets hit him?
Here's the numbers against the presumed Game One starting lineup:
Curtis Granderson 3-12 with 2 HR, 3 RBI, 4 BB, 4 K
David Wright 6-25 with 1 HR, 4 RBI, 5 BB, 4 K
Daniel Murphy 3-17 with 1 RBI, 1 BB, 1 K
Yoenis Cespedes 0-2 with 1 K
Lucas Duda 3-15 with 1 HR, 3 RBI, 2 BB, 10 K
Travis d'Arnaud 0-0
Michael Conforto 0-0
Wilmer Flores 1-6 with 1 double
Juan Lagares 2-12 with 1 BB, and 2 K
Combined 17-89 (.191 BA) with 12 BB (.287 OBP), 1 double, 4 HR (.337 slugging), 11 RBI, and 21 K
Here's how the projected bench has hit against him:
Kelly Johnson 1-6 with 1 HR, 2 RBI, 2 BB, 1 K
Michael Cuddyer 1-6 with 1 double
Kirk Nieuwenhuis 1-3 with 2 K
Kevin Plawecki 0-3 with 1 K
Matt Reynolds 0-0
Bench Combined 3-15 (.200 BA) with 2 BB (.294 OBP), 1 double, 1 HR (.467 slugging), 2 RBI, and 4 K
In case the Mets make a roster change, here's Uribe's numbers:
Juan Uribe 2-6 with 1 double, 2 RBI, 2 K
Overall, the Mets have not hit Cueto well. However, prior to Cueto being a Royal no one did. Just last year, Cueto limited batters to a triple slash line of .195/.261/.313. So, where's the discrepancy in all this? Where's the hope for Mets fans tomorrow? It's that Cueto's numbers are actually no fluke at all. In his career, as the year progresses, he tired and gets hit harder:
March/April .208/.269/.349
May .222/.282/.364
June .235/.298/.367
July .252/.324/.365
August .243/.305/.412
September/October .275/.335/.426
Given these numbers, it's clear that Cueto can be hit . . . hard. This gives the Mets a Game One advantage. When the goal is to split in Kansas City, the Mets need to utilize this advantage. I think they can and will.