If Not EY Then Who?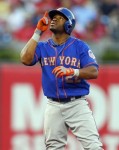 The Mets have already begun the process of putting together the NLDS roster. The Mets are now starting to address Eric Young, Jr.:
Terry said Eric Young is "heavily" in the mix for a postseason spot, but pointed out it's much easier for AL teams to bring specific PR.

— Matt Ehalt (@MattEhalt) September 30, 2015
Essentially, the Mets would like to add him and what he brings, but they are afraid to put him on the roster. The reason is right now he is viewed as a nothing more than a pinch runner. On an NL roster that is limiting with the need to pinch hit for a pitcher and/or double switch to help get multiple innings from a reliever. EY is no longer a good hitter (if he ever was one), but he can play the OF and 2B.
Before Juan Uribe's back injury, I assumed he would be on the roster leaving no room for EY. However, Uribe is hurt, so choices need to be made.
The first option is Kirk Nieuwenhuis. He doesn't have EY's speed, but he can run. He can play all three defensive outfield positions well, which is important with Yoenis Cespedes' recent injury. He has some if homeruns, but overall he has not hit well this year. The Dodgers lefty pitchers presents a problem for Nieuwenhuis, who is hitting lefties .000/.100/.000. That's right. He has no hits against a lefty this year.
The next option option would be Eric Campbell. Campbell plays each infield position, which could be important with Wilmer Flores' recent back troubles. He can also play both corner OF spots, and he can be an emergency catcher. For all the versatility he has around the field defensively, he is very limited offensively. Campbell is hitting .210/.318/.302. There's no way to spin this even with him hitting the ball hard.
So, if the Mets are looking for offense, they could look at Dilson Herrera. He's still only 21 years old, but he shows a lot of promise at the plate. Unfortunately, his .218/.320/.379 triple slash line makes him a better offensive weapon than EY, Kirk, and Campbell. He hadn't played much since his call-up, but he did have quite the game in Cincinnati last week going 3-4 with a walk, two runs, two RBIs, and a homerun.
The problem with Herrera is versatility. He's only played 2B. If you're on the bench, you may be needed to play somewhere other than where you're most comfortable. However, that issue may be assuaged with Daniel Murphy's and Kelly Johnson's versatility.
I'm not sure which direction the Mets are going on now. Each choice has problems of its own. I don't dven know which way I would go right now. What I do know is that this may be the biggest decision the Mets had since getting Cespedes.
I hope this choice will work out just as well.