Who Should DH?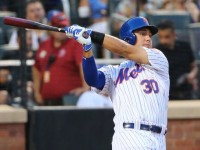 With the Mets playing in Kansas City to begin the World Series, they will have to choose a player to DH. There are a number of options.
Best Defensive Lineup
Late in games this postseason, the Mets have inserted Juan Lagares into the game for defensive purposes. This has moved Yoenis Cespedes to left and Michael Conforto to the bench.
With a spacious Kaufman Stadium outfield, the Mets could start the game with this defensive alignment and move Conforto to DH. This becomes more of an option because Lagares is having a good postseason. It's a way to maximize the defense while getting Conforto's bat into the game.
Left-handed Bats
The Royals have all right handed starters. If past history is any indication, Terry Collins will try to get as many lefties in the lineup as possible.
That would eliminate the Lagares option but keep Conforto in the lineup. The lefties on the bench now are Kelly Johnson and Kirk Nieuwenhuis. Given the choice for a first choice off the bench, Collins has consistently gone for Johnson over Nieuwenhuis. Neither has much experience against presumptive Game One starter Johnny Cueto (Johnson 1-6; Nieuwenhuis 1-3).
In this circumstance, Collins would go with Johnson, who is his only backup infielder with major league experience. If something happens, Matt Reynolds will be playing his first career game in the World Series.
Michael Cuddyer
Unlike most of the Mets roster, Michael Cuddyer has played extensively in the AL. However, despite playing 10 years in the AL, he's only played 37 games at DH.
As a DH, he has hit .265/.344/.402. This is similar to his career numbers of .277/.344/.461. At Kaufman Stadium, he's hitting .281/.371/.531. One note of caution there is that was against some terrible Royals teams. The Mets are not facing a terrible Royals team in the World Series.
Overall, he's waited the longest of all the Mets position players to play in his first World Series. I'm sure he wants to contribute and may have a big hit in him. Sometimes that makes a dangerous player.
My Pick
At the end of the day, I want the best team out there. In my opinion, that is Lagares in CF and Conforto at DH. The Royals put a lot of balls in play, so the Mets will need an OF that covers a lot ground.