Hot Stove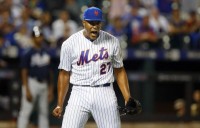 The Mets lost the World Series in large part due to the bullpen blowing three leads in the eighth inning or later. Normally, this would be a point of emphasis in the offseason, but I think there were more pressing issues there:
There were errors that lead to those blown leads; and
How the bullpen was deployed.
If these issues are not addressed, I'm not sure it matters if anyone is added to the bullpen. If they are resolved, the Mets have the makings of a terrific bullpen in 2016.
First and foremost, the Mets have a terrific closer in Jeurys Familia. He's the rare closer that can come in and get a team out of a jam. He's the rare closer that can go for more than three outs. He's coming off a year in which he recorded 43 saves, 1.000 WHIP, and a 9.9 K/9. Just when we thought he couldn't get any better, he developed the devastating splitter.
The issue becomes who will be the other six people in the bullpen. For the other six people you want a 7th inning guy, an 8th inning guy, a long man, and at least one lefty. That leaves you with two guys to either be an extra lefty, an extra long man, or preferably, just a good reliever.
8th Inning
Now, at the end of the year, everyone was clamoring for Addison Reed to replace Tyler Clippard in the 8th inning. It appears everyone will get their wish as the Mets look like they'll keep Reed and let Clippard walk. As a Met, Reed had a 1.17 ERA with a 1.043 WHIP, and a 10.0 K/9. That's elite, but it may also be unsustainable.
Reed has a career 4.01 ERA, 1.261 WHIP, and a 9.3 K/9. There could be many reasons for the improvement with the Mets. For starters, Reed improves as the year progresses. In April and May, his career ERA is over 4.00, but from August on it's under 1.35. Ultimately, it's great to have a reliever who gets better as the year goes on.
Furthermore, it's nice having someone with closing experience so the Mets don't have to overextend Familia during the regular season.
7th Inning
For me, this is obvious. The Mets need to go with Hansel Robles here. He's a guy who has the ability to get lefties and righties out, and he can go for more than three outs.
In 2015, he had a 3.67 ERA with a 1.019 WHIP and a 10.2 K/9. Those numbers don't tell the whole story. Once a rookie has pitched for a while, there is tape on him. Typically, this results in some struggles for the rookie until he adjusts. However, Robles got better as the year progressed. Here are his first and second half splits:
First Half: 4.37 ERA with a 1.191 WHIP and a 7.9 K/9
Second Half: 3.16 ERA with a 0.891 WHIP and a 12.1 K/9
Like Reed, he got stronger as the year progressed. His was criminally under utilized in a World Series that saw the Mets blow three late inning leads only to lose in extra innings. The Mets shouldn't make the same mistake in 2016. It's time to use Robles.
Long Man
Next to Familia closing, Sean Gilmartin being the long man is the biggest lock in the bullpen. He had a 2.67 ERA with a 1.186 WHIP and a 8.5 K/9. He took a strangle hold on this job, and there's no reason to take it away from him.
LOOGYs
Going into the playoffs, this was the Mets biggest question mark. Fortunately, Jon Niese took over the role quite successfully. However, he will not be an option to re-join the bullpen until Zack Wheeler comes back from Tommy John surgery, which will not be until around the All Star break.
Speaking of injuries, that was the reason the Mets didn't have a LOOGY. At different times, they had Jerry Blevins, Josh Edgin, Dario Alvarez, and Jack Leathersich go down with injuries. Blevins is free agent, but he's a candidate to return. Alvarez should be healthy for Opening Day. The Mets also have intriguing prospect Josh Smoker.
There are plenty of viable options here. The Mets should be able to carry one or two LOOGYs from this group.
Remaining Options
After taking the above into account, there will be one or two remaining spots remaining. There are a number of viable candidates:
Erik Goeddel. He is injury prone, but he has good numbers. He had a 2.43 ERA with a 1.000 WHIP and a 9.2 K/9. Those are good mumbers. Numbers that were good enough to land him on the NLDS roster. He should be part of the 2016 bullpen.
Carlos Torres. There are many things you can say about Torres, but the most important one is he's always available to take the ball. He has a career 4.26 ERA with a 1.357 WHIP and a 7.9 K/9. However, there is value in having someone that can take the ball.
Logan Verrett. He was all over the place last year. He was a starter and a reliever. He kept bouncing back and forth. It didn't hurt his performance. He had a 3.03 ERA with a 0.879 WHIP and an 8.4 K/9. He should be in the mix.
Jenrry Mejia. He's one more positive test away from his career being over. He won't be available until around the All Star Break. He's likely to be released, which is odd since the Mets haven't had problems with steroids guys under the Sandy Alderson regime. If he isn't released, he could help this team in the bullpen. Personally, I'd rather him gone.
Rafael Montero. There was a time the organization believed he was better than Jacob deGrom. When that proved to be false, he was placed in the bullpen to start 2015. The Mets did stretch him out to make go to a six man rotation. He got hurt, and he disappeared. Given the Mets rotation, if he's going to help the Mets, it's going to have to be in the bullpen.
Looking over all these options, there is no reason to go outside the organization for bullpen help. Except for Reed, these relievers are cheap, young, and talented. We don't know the Mets financial situation, but we do know that even if there is no money to spend, the bullpen will be in great shape.
The best part is even if it isn't, there's many quality choices in reserve, and that's just from the players we know.