Nothing but Pain and Tears.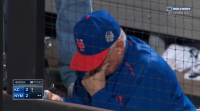 The Mets lost the World Series 4-1. The Mets easily could've won the series in the reverse. The difference? The Royals executed in late innings. Terry Collins was terrible. The Royals got a little luck. It wasn't supposed to go this way. Not this series. Not tonight.
This was the moment Matt Harvey we all imagined when he first came up and pitched against the Diamondbacks. This is the moment we anticipated when Harvey started the All Star Game at Citi Field. We were left dreaming of it when he missed all of 2014 while he was rehabbing from Tommy John surgery.
My God was he awesome. Awesome may be overused, but I can't think of a better word. I'm not sure a word exists to describe how incredible Harvey was. He went 8+, five hits, two earned, two walks, nine strikeouts.
For all the narrative thrown his way during the innings limit drama, he promised he would be here when the time called for it. Terry Collins tried to take him out of the game before the ninth. Harvey heard the news from Dan Warthen, and he went over to Collins and told him he's not coming out of the game. He then threw in a lipper and charged out to the mound. You don't get more old school than that.
Unfortunately, it was the wrong decision. Harvey allowed a leadoff single to Lorenzo Cain followed by a stolen base and a Eric Hosmer double. Familia got a groundout sending Hosmer to third. Then the Mets late inning defense showed its ugly face again. Salvador Perez hit a groundball to David Wright. Wright looked back at Hosmer, but it wasn't enough. Hosmer took off with Wright's throw, and he scored on a poor Lucas Duda throw. Blown save. Tie game.
It certainly highlighted the fact that Terry Collins left Harvey in a better too long. It highlighted the poor offense with four double plays off of the grieving Edison Volquez. The only offense the Mets could muster was a Curtis Granderson leadoff homerun and a Duda sacrifice fly. The latter being the only run scored when the Mets had the bases loaded and no out. The first out of that inning came on a Yoenis Cespedes popout after he fouled a ball off his knee. He would have to leave the game after the AB.
For the second straight game Familia got hit with the blown save that wasn't his doing. He got the groundball. He did buckle down, got out of the ninth, and shut down the Royals in the tenth. Jon Niese kept it tied. Addison Reed didn't.
Perez leadoff with a single that dropped right on the right field line. Jarrod Dyson pinch tab and stole second. Travis d'Arnaud had no shot. With the way he's throwing right now, he couldn't throw out Sid Bream. Dyson would score on a Christian Colon single. Naturally, it was Colon's first at bat in the playoffs.
Of course Daniel Murphy made another error. Of course Hansel Robles went unused again.of course Collins would wait for it to be 4-2 before lifting Reed. Of course Bartolo Colon would allow a bases clearing double to Lorenzo Cain. The game was out out of reach at 7-2.
Wade Davis came in, and the Mets went quietly into that good night. Duda struck out. d'Arnaud struck out. Michael Conforto singled leaving Wilmer Flores to make the last out. He struck out. Fittingly, it was his final at bat that left us all in tears.