Fifteen Years Later Harvey was Leiter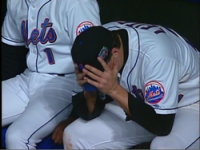 It's funny to think in the year Yogi Berra died, the feeling I walked away with from last night was "its déjà vu all over again."
Fifteen years ago, I watched the Mets lose the World Series in five games. I remember believing that the better team didn't win. The bounces went the wrong way. The Mets failed to execute in the late innings. They just couldn't get that big hit when needed. I remember thinking of the Mets could just win Game 5, they could still win the World Series.
Al Leiter started Game 5 and gave the gutsiest performance I've ever seen from a Met. He went 8.2 innings throwing 143 pitches. He was just in there too long. After getting the first two outs via strikeout, he let up three successive hits giving the Yankees a 4-2 lead. I still thought the Mets had a chance. I thought Mike Piazza tied the game in the bottom of the ninth. Cruelly, it fell just short.
Last night, Matt Harvey was every bit of Al Leiter's equal. He too put the Mets on his back and had eight incredible innings. Truth be told, Harvey had a game for the ages. If he doesn't come out for the ninth, his final line is 8.0 innings, four hits, no earned, one walk, and nine strikeouts. It should've been a game that was talked about for years to come.
Instead, Harvey came out for the ninth. He allowed a walk and a double. The talk will forever be about how Terry Collins left him in instead of how great he was. It's just like 1999. No one talks about how great Leiter was. They talk about Timo Perez and Roger Clemens. I fear this World Series will be talked about over Collins' use of Jeurys Familia and the late inning defense.
However, I'll always remember Leiter's Game 5 performance. If I ever had the chance to meet him, I'd shake his hand and thank him for it. Sure, the Mets lost, but I respected that performance. He wanted in that game every bit as Harvey did last night. If I met Harvey, I'd shake his hand and thank him for last night too.
They both fell just short, but they gave it their all. Last night was just as painful as it was 15 years ago. In some ways, it hurts even more so. I may not have seen a World Series in either year, but I saw something special from two extraordinary local guys. They did themselves and their teams proud. They made me proud to be a Mets fan.
They deserved a better fate. Instead, they have my profound respect. Thank you.