Glimpse of the Cespedes Trade Debacle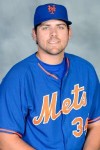 We may soon find out how bad the Yoenis Cespedes trade was. With an injury to Daniel Norris, the Tigers are pondering calling-up Michael Fulmer.
This is salt in the wound after watching Terry Collins throw away the last game in Baltimore. In part, that is because of the ineptitude of the Mets front office in handling the innings restrictions. If Fulmer is truly ready, he could have been used for a spot start over Logan Verrett. This way the Mets bullpen, in the middle of a pennant race, wouldn't be understaffed for a full week.
There's also the possibility if Fulmer stayed with the Mets organization, he wouldn't be called up to make a spot start. Correction, there is no way they would call him up. Considering they won't consider Steven Matz in the bullpen, they wouldn't consider Fulmer there either; especially with the intriguing possibility of Vic Black.
Also, don't misconstrue this as me saying I don't want Cespedes. It was a sign to the Mets fans and players the team was all-in. The Mets took off since that time. However, this is a question of whether the Mets had to give up Fulmer. I still say they didn't. Sandy Alderson balked and the departing GM didn't. This trade could very well haunt them.
So in the history of John Smoltz and Jeff Bagwell, the Mets may get a glimpse of what could have been part of their future.