There's No Room for Cespedes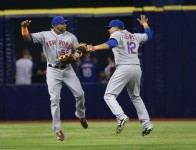 A large part of what happened in the second half of the season was the Mets obtaining Yoenis Cespedes. I'm not in the camp that the Mets wouldn't have won the division without him. However, I do believe it prevented a dog fight for the division.
While it was a wild ride, it came at a cost. A huge cost. I remember being vilified for suggesting the Mets would not sign him. Now, it seems like after an awful World Series, fans are on board with the sentiment. There seems to be a multitude of reasons why people do or do not want Cespedes to come back to the Mets. For what it's worth, it appears he will not return.
I know its academic, but it's the right decision. There's no room for him on the roster. Michael Conforto will be the everyday leftfielder. Curtis Granderson has two more years on his contract to be the rightfielder. The Mets are set at the corner outfield positions. As for centerfield, Cespedes isn't a centerfielder. I know he played there for the Mets, but it wasn't a great decision. It was a decision to increase offense.
Looking over his career, Cespedes has poor range in centerfield. His UZR in centerfield this year was a -3.2, which equates to being a below average centerfielder. It just wasn't those lazy World Series plays, it was the entire second half. By the way, this was the worst he's been in three years in centerfield. His prior UZRs were -1.3 and -1.7. It's the reason three teams didn't see him as a centerfielder. People didn't notice it as much because he was impossibly hot at the plate.
Look at it this way, everyone jumped all over Juan Lagares for having a down year defensively. His UZR was 3.5, which equates to him being an above average centerfielder. So to get this straight, Lagares was bad, and Cespedes was good? No, Cespedes hit, and Lagares didn't.
I do think Cespedes will continue to hit for power. In his four year career, his 162 game average is .271/.319/.486 with 30 homers and 106 RBI. Whether or not he's a poor on base percentage player, he will continue to mash. That still doesn't make him a CF. It makes him a terrific left fielder. The Mets have one of those.
So we should all thank Cespedes for what he's done for this team because he won't be back. It was a wild ride, and I wish him the best at his next stop.