2015 Playoff Gear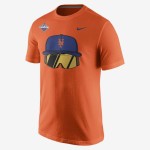 As I noted before, it was not a good idea to spend your money on any 2015 postseason gear. Right now, it's all on sale:
Today until 6p there is a sale on postseason merchandise in the merch tent on Mets plaza. Sale will continue all week in the Team Store.

— New York Mets (@Mets) November 2, 2015
The reason? It's because the Mets lost the World Series. It's because typically no one wants gear from the time their team lost. Right now when I look at postseason stuff, I think more about the Mets blowing three World Series games instead of Murphtober.
It's why you don't see Mets fans wearing 1999, 2000, or 2006 gear. It's why the gear is on sale now. By the end of next season you will no longer see 2015 postseason gear. In the smallest of consolations, at least the World Series gear is terrible.
Hopefully, it will be much better next year when the Mets win the World Series. I guarantee it won't go on sale right after the World Series ends. People will want to wear those forever.