Save Your Money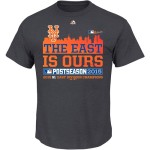 This is the sixth time the Mets have made the playoffs in my lifetime. In 1986 and 1988, I was too young to run out and buy playoff gear. In the subsequent years, I was able to purchase playoff gear, and I did. I wasted my money.
I look at my 1999 playoff stuff, and I see Kenny Rogers walking in the series winning run. I look at my 2000 playoff stuff, and I'm reminded of the Mets losing the Subway Series. I loved my three quarter sleeve 2006 NL East Champion t-shirt up until the Carlos Beltran strikeout.
I don't wear the stuff anymore. It's just reminders of painful losses. Also, I've realized it's not the gear I want. I want the World Series gear.
Being a Giants fan, I only got the Super Bowl Champion gear. Some people got me the NFC Champions and the NFC East Champions. I never wear them. If I'm wearing something, I'm wearing the Super Bowl Champion gear.
So take my advice. Don't rush out and buy the NL East Champions gear. I understand your excitement, but you'll wear it for a month at most. Save your money for the World Series. You can use the extra money to get extra stuff. Trust me. You'll thank me later.