Do You Start Lagares?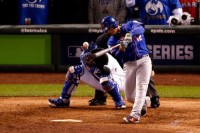 Coming into the postseason, Juan Lagares was nothing more than a defensive replacement. In Game 1 of the NLDS, the Mets went with Michael Cuddyer over Lagares and Michael Conforto against Clayton Kershaw.
Cuddyer was so bad in the field that the Mets haven't given him another start. The next three times an opponent started a lefty, the Mets would go with Lagares. This is in addition to his appearances as a defensive replacement. While Lagares has not played to his usual defensive standards this postseason, he's shined offensively.
Lagares has a triple slash line of .368/.400/.474 with six runs, two doubles, and two stolen bases. In Game 1, he created a run by singling after an extended at bat, stealing a base, and scoring on an error by Eric Hosmer. Conversely, Conforto has struggled.
After homering in his first postseason at bat against Zack Greinke, he hasn't hit. Literally. After that homerun, Conforto is 0-19 with a walk and six strikeouts. It looks like he's having good at bats. He's hit some balls hard, but the results aren't there. Yes, he's a much better hitter than Lagares. However, Lagares is hot, and he's cold.
Normally, Lagares would sit against the Royals Game 3 starter, Yordano Ventura, because he's righty. However, Terry Collins doesn't seem inclined to sit Lagares:
Terry Collins indicates good chance of Juan Lagares in CF with Yoenis Cespedes in LF, but lineup not written yet.

— Adam Rubin (@AdamRubinMedia) October 29, 2015
Here, I can't fault Collins either way. On the one hand you go with the hot bat and better glove, even if he's not producing as much defensively as you would like. On the other you have a good hitter who just can't buy a hit, but you know he will be good to very good defensively.
In the end, I'd lean towards Conforto. It's what you've done all year. Lagares has shown he can impact a game late by coming in for defense or by being a spark plug. Also, I like Conforto's approach right now. He's not getting hits, but he's working the count and varying his deliveries.
Whatever the decision, the Mets will be fine. They're both very capable players, who have a lot to offer a team. I'm confident either or both will have a big hit it defensive play b