Re-sign Murphy?
The Mets have many tough offseason decisions to make. Right now the most pressing decision is Daniel Murphy. The Mets have until Friday to offer Murphy a qualifying offer of a one year $15.8 million offer.
In my opinion, the Mets need to offer Murphy the qualifying offer. The worst case scenario is Murphy accepts the deal. Yes, you could argue he's not worth $15.8 million. However, it's a slight one-year overpay considering he was projected to receive a 4 year $52 million contract ($13 million a year). That was before his huge postseason. In any event, it seems the Mets will extend the offer.
Based upon the prospective offers Murpy will receiving, he's likely to reject the qualifying offer. If so, and Murphy signs elsewhere, the Mets get another team's first round pick (top 10 protected). If and when he rejects it, things will begin to get interesting because the Mets need to make a tough decision. Do you re-sign Murphy?
If he departs, Murphy will be leaving a sizeable gap behind him. He was the number three hitter on a pennant winner. On a high strikeout team, he is a contact hitter. His power has increased while working with Kevin Long.
Murphy is also the starting second baseman. Now, second is a position where the Mets may have options. The first option is the 21 year old Dilson Herrera. Reading all the scouting reports, he's a younger Murphy with potential to be more. Herrera has hit at every level. He has more speed. He is raw defensively and has the tools be be good at second, but right now he isn't.
Now, Herrera struggled during his call-up this year. He hit .211/.311/.367. It doesn't mean he won't eventually hit at the big league level. It may just mean it was a short sample size or he's not ready. In the event he's not ready, the Mets could elect to shift Wilmer Flores from SS to 2B.
For his career, Murphy has hit .288/.331/.424. His UZR at second was -1.3, which was by far his best year. In the two years prior, he was around a -5.0 player, which means he's a below average defensive player, which is a shock to no one.
This past year, his first full season in the majors, Flores hit .265/.302/.425. Overall, Flores is not the hitter Murphy is, even if he shows some promise. His UZR in his limited time at second was 1.7, which means he's average defensively, better than Murphy, but still average. It also leaves a gap at SS. Flores improved as the year progressed. Additionally, we still don't know how well Ruben Tejada is going to bounce back.
Despite possibly being the best second base option, the Mets may benefit from his versatility. Murphy can play first and third. With David Wright's back, he's limited. He can't play more than four games in a row. Also, Lucas Duda is prone to some dry spells. Murphy could offset the gaps created by Wright's back and Duda's dry spells.
On the flip side, fellow Mets free agent Kelly Johnson does the same thing. He has the added benefit of playing the corner OF positions. He's also a left handed bat like Murphy. He's a .251/.331/.424 hitter, which again is worse than Murphy. However, Johnson is seen as a bench bat that won't cost much money.
That's the thing. Johnson is a bench player that won't cost much money. The Mets should bring him back, but it shouldn't have any impact upon their Murphy decision.
The main reason I keep thinking that Murphy needs to come back is the fact that the Mets just lost the World Series. They were so close. We know the pitching will be there, and it will be even better. However, the Mets have to keep a competitive offensive team on the field.
We don't know what the Mets are going to get from Wright over 162 games. Many assume Yoenis Cespedes is all but gone. The Mets will be losing their third and fourth place hitters. Why should anyone expect this team to be any better next year?
There's not really any upgrades over Murphy on the market. If you won't spend on Murphy, why are we to believe they'll sign someone like Ben Zobrist. Yes, Zobrist is the better player now, but he's going to get a similar contract. Also, he's five years older than Murphy. Murphy is in his prime. Zobrist is close to retirement.
If someone steps up and offers Murphy a stupid amount of money, you have to let him walk. He's a nice, not great, player. I'm qualifying a stupid amount as a contract around four years $70 million. Eventually, you're going to have to pay these pitchers, and Murphy can't stand in the way of that.
However, if the market is reasonable, Murphy has to return. Hopefully, the qualifying offer will keep it reasonable. I say hope because the market rarely is. I mean, did you see the contract some team gave Michael Cuddyer last year? That's the thing. All it takes is one team to do something irrational to turn Murphy into an ex-Met.
I'm hoping it doesn't happen. Im hoping the Mets have the money. If they don't, maybe they can offset some of the cost by getting a Chapstick sponsorship deal?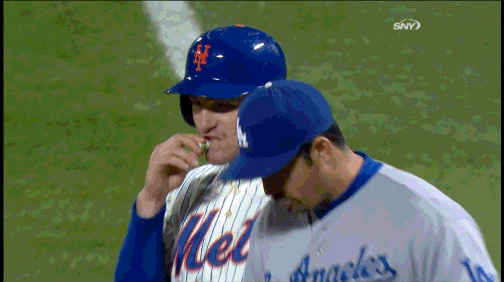 All jokes aside, the Mets need to re-sign Murphy.