Bartolo Colon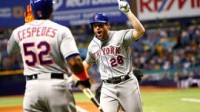 Now that was special. Even with Jacob deGrom and Tyler Clippard unable to keep the game tied, the Mets found a way.
First, Juan Uribe ties the game with a homer after this game started to look like the Grady Sizemore Show (homerun and stole a homerun from Wilmer Flores). After deGrom gave up a James Loney homer, Daniel Murphy hits a game tying homerun. Tyler Clippard gave up the lead on an Evan Longoria homerun that just skipped off the top of the right center field wall.
In the ninth, after Lucas Duda reached in an error and moved over on a wild pitch, Michael Conforto had the biggest hit of his young career (in a terrific AB) with a hustle RBI double to tie the game. He was moved over to third in a Travis d'Arnaud infield single and scored the go-ahead run when Flores served the ball into right [standing ovation].
Jeurys Familia closed out the game to secure the 4-3 win. In an odd sequence it took the Mets a few times to record the first out. Uribe was aggressive in fielding balls in front of third, but the umpire correctly called the ball foul each time.
With Clippard getting the win, when in actuality all he did was put the Mets on the brink of losing, I thought of how my thinking has evolved on wins. As I've stated before, I'm generally more open and accepting of Sabermetrics. I do think the pitcher wins are an overrated stat. For example, the horrendous Bartolo Colon is tied for the team lead in wins with Matt Harvey and Jacob deGrom. Luckily, no one on the Mets side had a loss to put in their ledger tonight.
Some other fun notes:
The sound of the crowd made it sound like a home game;
It was great seeing Dwighg Gooden at the game; and
Terry Collins shows he's delirious with some of these lineups
With the DH, he had his lefty platoon lineup out there which meant Conforto and Kelly Johnson (2B). He had Uribe and his defense at third. However, I don't understand Flores at SS instead of Ruben Tejada. Collins brought in Juan Lagares for defense in the ninth. He should've done the same with Tejada. At least the mistake didn't cost the Mets the game.
In other great news, the Rockies beat the Nationals to extend the Mets lead to 2.5 games (two in the loss). Tonight was a great night for baseball and an even better night to be a Mets fan.