Mets Diminishing Pitching Depth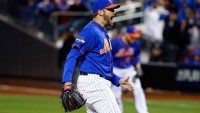 Going into last year, the Mets were well noted for their organizational pitching depth. It wasn't just the pitchers that were in the majors, but it was also the pitchers on the way. The thought process was the Mets could select the pitchers to keep to help the rotation and trade the others for a bat.
Well, the Mets are going into the 2016 season, and their depth isn't the same as this regime seems comfortable jettisoning this team's pitching depth. A large part of the reason was the unwillingness and/or inability to spend in the offseason last year. Here is the list of pitchers gone from the Mets organization:
This list doesn't include Logan Verrett, who was selected in last year Rule 5 draft and returned. It also doesn't include Tyler Clippard, Bartolo Colon, Eric O'Flaherty, Bobby Parnell, and Alex Torres because, at least in theory, they all could return to the Mets next year. In any event, that's a lot of pitchers gone and/or potentially gone from the 2014 Winter Meetings and the 2015 Winter Meetings.
After losing all these pitchers, the Mets only have two . . . TWO . . . players on their 2016 major league roster resulting from these moves: Addison Reed and Neil Walker. Also, the Mets still need a fifth starter and possibly bullpen help. You would think after losing 15 pitchers in a year, you'd be in a better position.
Now, the important caveat here is not all of these pitchers are of the same caliber. For example, Peavey and Fontanez were selected in the minor league portion of the Rule 5 Draft. Also, I did defend the trade that brought in Juan Uribe and Kelly Johnson. On the flip side, I did not like the trades which brought in Clippard and Yoenis Cespedes.
I'm not in the crowd that justifies these deals due to the Mets winning the pennant. You win the World Series, you're untouchable because you did what was necessary. However, the Mets lost all that pitching and still fell short. Think of it another way. Do you think the Tigers would've traded winning the AL East for John Smoltz' career?
With all that said, the Mets still deserve some credit here. Even though they lost all that pitching, they still have good pitching prospects like Robert Gsellman. I just wish they spent more money last offseason and kept some of those pitchers to give them more options to make deals this winter or this upcoming summer.
Keep in mind that sooner or later losing all this pitching will eventually catch up with them. I'm not looking forward to the day that happens.