The Trade We Seem to Forget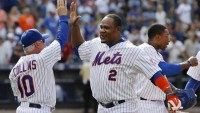 The Yoenis Cespedes trade was everything Mets fans could've dreamed of and more. The man has been a walking, talking highlight film. Tyler Clippard has locked down the eighth inning. Even though the price the Mets paid for these two players was high, these players have produced well enough that this isn't the story.
You know what isn't a story anymore? Sandy Alderson's trade that brought the Mets Kelly Johnson and Juan Uribe. Neither one has been spectacular since coming to the Mets. Uribe has gone .200/.288/.410. Johnson has gone .245/.297/.426. However, they've had their moments. Yesterday, Johnson hit a homerun to put the Mets up 2-0. On his first day, Uribe got a game winning hit in extra innings. Uribe may not be hitting much, but the hits he has are huge.
Also, Uribe has been a great clubhouse presence. He keeps things light. He keeps things upbeat. That's important when the Mets have had some bad beats. This team gets themselves off the mat. I'm sure Uribe has played a large part in that.
It's also important to note with David Wright back and a healthy Daniel Murphy and Lucas Duda, they're bench players. Good, veteran bench players that gives Terry Collins a lot of options. This is a huge upgrade over the Danny Muno's of the world.
Johnson and Uribe have both been been in the playoffs, and Uribe has won a World Series. Their acquisition was the first step towards winning a World Series. However far the Mets go, they will be a big part of it.