Neil Walker is a $0.30 Pair of Sneakers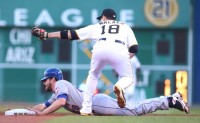 I am reminded of being in the seventh grade. I grew a lot, especially my feet. It must've been beyond annoying and expensive for my parents. My mother always insisted on good footwear. My father on the other hand always looked for a deal.
We went to Fayva Shoes (remember that place?). There was some insane sale where if you purchased one shoe, you got the next one half off. The strange thing about this sale was if you got a third it was half-off the half-off price (for example, a $20 sneaker cost $5). Basically, every sneaker after the first one followed this computation.
Anyway, my father made me pick out a shoe that I liked (or hated least). He then literally purchased that sneaker in every half size up to a size 13. His theory was he'd never have to buy me another sneaker again. Plus, he got me a sneaker that cost $0.30. Not an exaggeration. Side note to this story is his plan never would've worked as my feet are about a size 14.
Guess how well this worked out? C'mon, we were able to purchase a sneaker for $0.30. They were flimsy sneakers. I was playing football, juked, rolled my ankle, and broke my foot. We may have had a sneaker that cost $0.30, but now there was also medical bills. It was penny wise, pound foolish.
The Neil Walker trade is the Mets $0.30 pair of sneakers. We can reasonably argue over whether Walker or Daniel Murphy is the better player. You want to tell me it's Walker, fine. However, as a result of obtaining Walker for Niese, the Mets now have to look to acquire a fifth starter. By the way, you're looking for a fifth starter who will agree to only pitch for half the year because at that point Zack Wheeler will return. Good luck with that.
I know Murphy is a free agent, but Ben Zobrist's deal was for an average annual value of $14 million a year. Murphy will probably get $2 million less a year than Zobrist. Yes, it would probably be $2 million more than Walker will receive in arbitration. However, Murphy can serve as insurance for David Wright's back, whereas Walker can't.
Sure, the Mets did sign Asdrubal Cabrera. Whether you like the move or not, we should all be able to agree $12 million to Murphy and $9 million to Niese shouldn't have precluded that signing especially since the Mets aren't pursuing Jason Heyward or Yoenis Cespedes. Instead, the Mets need to convince a starting pitcher to start for only half a year and an everyday player to accept being in a centerfield platoon with Juan Lagares.
This is ultimately why the Walker deal was a bad trade. The Mets weakened themselves in the rotation without a clear cut replacement in a market where pitchers are getting big deals. Ultimately, the Walker deal had to be about money as he and Niese are going to make similar money, give or take a million.
My $0.30 sneakers? Well, they would have to donated, i.e. we got rid of them. That's what the Mets will do with Walker after this year. I just hope Walker will be a better fit before he's gone.