Mets Fiddling While Bullpen Options Sign Elsewhere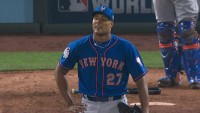 Time and again this offseason, the Mets have informed everyone they have sufficient payroll to make more moves even if they land Ben Zobrist. The team has identified the bullpen as a position of need. Well, while the Mets are negotiating with Zobrist relievers are coming off the board:
Now, I think the bullpen is fine. However, the Mets don't, and that's what is important. They're letting free agent relievers sign reasonable contracts elsewhere while they're stuck on Zobrist. It makes you question if they really do have the money to address all their needs.
There are still free agent relievers out there, but the high end guys are gone. How many more will come off the board until the Mets address what they've identified as a position of need?