Mets Still Have Limited Resources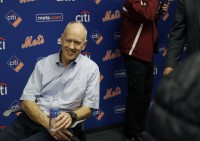 By any measure, the Mets had a pleasantly surprising run this year capturing the 2015 National League pennant. The 2015 Mets weren't perfect. They had some holes to fill. On top of that, new holes were created by free agency. Can the Mets fill in those holes?
The answer to that question begins with another question – do the Mets actually have money to spend? There are reports out there that suggest they don't despite the additional postseason revenue. There are various reasons why. However, as a Mets fan, all you care about is what can they spend. The answer may not be what you want to hear:
Alderson pegged this year's opening day payroll at $103M and said 2016's should be "somewhat" higher, with room to add at trade deadline.

— Mike Puma (@NYPost_Mets) November 4, 2015
Now, the Mets 2015 payroll was $120.4 million. However, a significant portion of that was covered by insurance due to David Wright's back injury. By my estimation, the Mets saved about $10 million. If we back that out, it means the Mets paid roughly $110.4 million in salary. Given Sandy Alderson's statements that the Mets payroll will increase from the 2015 Opening Day payroll of $103 million, we should see the 2016 Opening Day payroll to be around the $110 million it was at the end of last year.
Right now, the Mets payroll obligations are estimated to be at $92 million for 25 players. Note, not all of these players will be on the Opening Day payroll due to various reasons from trades to the fact that the list has eight relievers on it. However, if the Mets keep all of these players, they're paying them regardless if they're playing in New York or Las Vegas.
In any event, that means the Mets have roughly $18 million to build the major league roster. That may be a problem because the Mets have question marks at 2B, SS, and/or CF. They also need a versatile player that is competent enough at third to play there semi-regularly. Effectively, this puts an end to my relatively modest Daniel Murphy–Dexter Fowler–Kelly Johnson plan.
That's problematic because all three were expected to get somewhat reasonable deals Murphy and Fowler were only pegged to get four year deals. It's not like the plan was Jayson Hayward and Zack Greinke. The plan was Murphy and Fowler. It's absurd and depressing when you think about it.
It's even worse when you consider an elite young starting rotation is slated to be paid a combined $7.1 million or $3.9 million less than what they paid for Bartolo Colon last year. It's worse when you consider there's no need for a bullpen upgrade.
Honestly, after seeing that comment from Sandy Alderson, I felt deflated a bit. After a pennant, the Mets will not be able to address their issues. It means if their cheap young pitching keeps them in it again, they'll have to grossly overpay again at the trading deadline.
I'm sorry, but this isn't how a pennant winner responds to falling just short. This isn't how a New York team should operate, especially in an uncapped sport. There is no reason the Opening a Day payroll can't be at least $120 million, which by the way, would've ranked them 15th, middle of the pack, last year.
Now, I truly can't get upset until I see what the Mets do this offseason. They very we may spend more than they're alluding. The payroll may not significantly rise, but they could pull off some shrewd trades to offset that. With that said, I'm not too enthusiastic at the moment.
We were promised if attendance went up the Mets would spend. Attendance went way up. It's time for the Mets to finally spend some money.