Remember Roberto Alomar?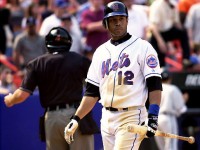 I still remember the day the Mets made a surprise deal to get Roberto Alomar. It was an early Christmas gift. It seemed like after a down year the Mets were going to be World Series contenders again.
He was coming off a .336/.415/.541 Gold Glove year at the age of 33. He had a 7.3 WAR, and to that point in his career, he had accumulated a 67.0 career WAR. By any measure, Alomar was a superstar and a future Hall of Fame player. He was also a complete and utter disaster with the Mets. In his two years with the Mets he hit .265/.333/.370. His WAR was -0.4. The only good thing is the players the Mets gave up never came back to haunt them.
To date, Ben Zobrist has hit .265/.355/.431. He's accumulated a career WAR of 38.5. Last year, he hit .276/.359/.450 with a 1.9 WAR. He has a UZR of -6.7 at second base last year. He will be 35 next year.
With that said, is it still a good idea to give Zobrist a four year deal?