Mets Embarrased Themselves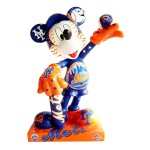 At the end of the day, I'm happy the Mets avoided a huge mistake when Ben Zobrist agreed to a four year $56 million contract with the Cubs. There's usually nothing wrong with losing a bidding war. However, the Mets still managed to look like a second rate Mickey Mouse organization.
I'm not sure what happened first. Did the Mets hire Casey Stengel to be their first ever manager or did they announce to the whole world that Zobrist was their top priority? By their own admission, they were transparent in how desperately they wanted him. They gave him a tour of New York and the surrounding areas (just like they did with Billy Wagner). They were also confident:
Jeff Wilpon is planning to attend the Winter Meetings … which usually only happens when the Mets have a big signing to announce.

— Mike Puma (@NYPost_Mets) December 4, 2015
The Mets should've felt confident. They were said to be willing to go as high as four years $60 million. That's higher than what he wound up getting. What happened? Well, the Mets happened. First, the Mets discussed parameters instead of a concrete offer (shades of the wife beater). Next, they had him in a meeting and let him walk out unsigned. Lastly, they got cocky. It wasn't until today the Mets offered Zobrist that fourth year. So Zobrist leaves the Mets and . . .
Told everything got done last night. Both the trade and Zobrist but Medicals etc. Delayed until today

— Jesse Rogers (@JesseRogersESPN) December 9, 2015
That's right. Zobrist effectively became a Cub last night. With that said, the Mets were confident all day they were getting Zobrist. How confident?
#Mets source put it at 80% Zobrist is a Met in the end. 20% Cubs. Thinks Cubs came into this too late…….Murphy is next option

— Kristie Ackert (@ByKristieAckert) December 8, 2015
The day after the Cubs agreed to a deal with Zobrist, the Mets were 80% sure they were getting Zobrist. There no other way to put this. The Mets were delusional. When they finally figured out there was a problem, they were a day late and a dollar (or a few million) short. Seemingly, they went into scramble mode with Terry Collins sending Zobrist text messages saying, "We want you." After Zobrist signed, there's no word if Collins sent Zobrist a text saying ?.
Keep in mind this was after the Mets already lost the bidding. A bidding war they let the Cubs enter. The Cubs needed to make a trade to open up the second base spot for Zobrist. The camps were most likely keeping it quiet so as not to diminish the Cubs leverage in trading Starlin Castro. If the Mets just made the four year $60 million offer, this probably doesn't go down in the Winter Meetings. If Zobrist rejected it, the Mets could've moved on and at least picked up a reliever or two.
Nope. The Mets overplayed their hand. They let other teams enter the fray. They let everyone know they wanted Zobrist and still didn't get him despair apparent mutual interest. The Mets may say it wasn't about the money, but they'll never truly know because they were holding it back. Zobrist agreed to terms with another team BEFORE the Mets made their best offer. Now, it's time for Plan B:
A Mets official told me less than an hour ago that there was no clear-cut Plan B.

— Adam Rubin (@AdamRubinMedia) December 9, 2015
Wow. Just wow. It keeps getting worse.