It's Already Time for Plan B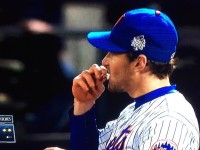 Early this offseason, the Mets seemed to make Ben Zobrist and Darren O'Day as their primary free agent targets. Zobrist is now priced out of the Mets price range. O'Day isn't linked to the Mets anymore. Sure, the Mets could still get either, neither, or both, but it looks more probable they won't land either. It's now time for Plan B.
Right now, we're not quite sure what that looks like. Adam Rubin suggests it's Daniel Murphy (or another middle infielder). Plan C would then be to get a centerfielder. Ken Davidoff disagrees slightly saying the Mets would go straight to looking to acquire a centerfielder. Overall, I'm positive the Mets know what their Plan B is even if we can all disagree on what it is.
Here's the problem with Plan B. Zobrist and O'Day are seemingly everyone's Plan A on the free agent market. Once they sign, everyone moves onto Plan B. With the increase in suitors for those players the price tag gets driven up again. That's why the Mets should look to their Plan B and act quickly.
It's what the Tigers did when they signed Jordan Zimmermann to a five year $110 million contract. He was projected to receive a six year $126 million contract. By acting quickly, the Tigers saved both on years and total value of the contract. The real potentially looks even better now that David Price has received a seven year $217 million contract. The prices for starting pitching will only go higher. It won't for the Tigers because they acted quickly and locked up Zimmermann.
Hopefully, Murphy is the Mets Plan B. We know he wants to return. It was Murphy, not the Mets, who wanted to work out a contract extension. If Murphy wants to remain in New York, any chance at retaining him on a hometown discount exists up until the point Zobrist signs. Then all the teams that didn't sign Zobrist will at least kick the doors Murphy. At that point the price for Murphy may escalate.
The Mets should act before that happens. As we saw with Zimmermann, striking at the right time may get you a discount . Waiting may cost the Mets either more money or the ability to acquire Murphy. With Zobrist still out there, the Mets should move on from a player that will not fit into their budget.
It's time to sign Murphy before Zobrist signs elsewhere.