This Offseason is Frustrating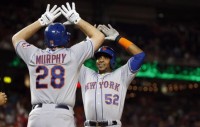 The Mets have a lot of needs this offseason. The only thing everyone seems to know is the Mets aren't going to spend money or re-sign their third place hitter, Daniel Murphy, or their clean-up hitter, Yoenis Cespedes.
Here's the thing. The only free agent who has signed a deal was Rich Hill. The only major trade was the Andrelton Simmons deal, and we know Simmoms wasn't going to be traded to the Mets. With all the rumors flying around, one thing is for certain. Nothing has been decided yet.
It's an important offseason for the Mets. They were just in the World Series. If they want to return and/or win there's work to do. The Mets also have to make good on some promises. They always said if fans came to the ballpark, they would have money to spend on payroll. Well, the Mets had a 19.5% increase in attendance. SNY ratings are up 60%. The Mets are increasing ticket prices. There should be more money to spend. In fact, there is. There's about $45 – $60 million extra revenue from 2015.
No, that's not what we're hearing. We're hearing free agents are costing too much. We're reminded small market teams outspend them. The reason might be because the Wilpons and their entities have significant debt payments due. There's supposedly more than $29 million due. If the Mets don't do anything, that will be the story and deservedly so.
Personally, I don't think there is much out in the free agent market. I advocated letting Cespedes walk. However, there are realistic avenues to spend money. They can bring back Murphy. They can create a dominant bullpen. They could also start trying to extend their starting pitchers. There's room to spend money.
I'm frustrated with the Mets right now because they've done nothing, but then again, there's been very little movement in the offseason. It's also frustrating not being able to vent about what most Mets fans feel is inevitable. We all assume the Mets won't spend, but we can't exactly call them out on something that hasn't happened yet because the possibility remains they might.
All in all, it all just creates a very irritating and frustrating offseason. By the way, the offseason has only been a little over two weeks old. There's the definite possibility it's going to get worse.