Sign Stephen Drew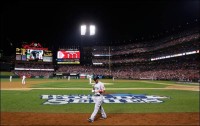 In 2013, the Red Sox signed Stephen Drew to a one year deal. In that year, Drew presumably built up his value in a year the Red Sox won the World Series. The Red Sox and Drew at least thought so. The Red Sox offered him a Qualifying Offer, and Drew rejected it. His career has never been the same.
Drew just kept on waiting for a deal commensurate with his perceived value. He waited and waited and waited. He waited into the 2014 season. At that point the Red Sox knew no one was signing him, so they were not going to get draft pick compensation. They had injuries and a need for an infielder. They brought Drew back on a prorated portion of the Qualifying Offer.
He wasn't good, and he hadn't been good since. In 2014, he hit .162/.237/.299 in 85 games. He was so poor the Red Sox had no problem trading him to a Yankee team still hoping to make the playoffs. In 2015, the Yankees brought him back to play second. He hit .201/.271/.381 in 131 games. If he's been this bad, why should the Mets sign him?
For starters, he's a left handed bat that can be plugged into the middle infield. For his career, Drew hits righties to the tune of .260/.329/.436. While he had a disappointing year last year, he did hit 17 home runs with 14 coming against righties. Only nine of the homers were at Yankee Stadium, so it's not like he's completely a creation of that bandbox.
He's also been a decent fielder. The last three years he's recorded UZRs of 5.3, 3.0, and -0.6. In a full season at second last year, his UZR was -0.2. Basically, if he played for the 2015 Mets, he clearly would've been their best defensive middle infielder.
No, I'm not expecting him to be an everyday player. He's going to be 33 years old next year. His best baseball is behind him. At best, I think he's a platoon player at either second or short. He allows Dilson Herrera extra time in the minors if needed. He's an insurance policy against Ruben Tejada's injured leg. He's also bound to come cheap.
Honestly, I can't imagine it would take more than a minor league deal with an invitation to Spring Training to obtain Drew. If that's the case, it's a no lose proposition. If he's terrible or the younger players are ready, cut him or send him to the minors as an insurance policy. If he's good or the younger players aren't ready, you have a player who can contribute next year.
With the available free agents and the Mets budgetary constraints, these are the type of signings that will be most likely for the middle infield.