Murphy is a Better Fit than Zobrist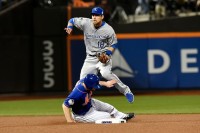 The Mets are reported to have interest in Ben Zobrist along with the rest of baseball. Let's get one thing out of the way. Ben Zobrist is a better player than Daniel Murphy.
Zobrist hit .276/.359/.450 last year. For his career, he's a .265/.355/.431 hitter. He wasn't good at second last year. His UZR was a -6.7. However, last year was a blip. He's averaged a 3.3 UZR, which would make him slightly above average at the position. Last year, his WAR was 1.9. His career WAR is 38.5.
For his part, Murphy hit .281/.322/.449 last year, and he's hit .288/.331/.424 for his career. His UZR at second last year was -1.3, his best ever at second (for a full season). His average UZR is -4, which means he's a bad fielder. Last year, his WAR was 1.4, and his career WAR is 12.5.
By any measure, Zobrist is a better player than Murphy. Zobrist has more versatility than Murphy as he can play some short and can play the OF. So why would I rather pay Murphy $48 million over four years than pay Zobrist $42 million over three years? Murphy is five years younger and in the prime of his career.The Murphy/Zobrist decision is an examination of paying players for past over future performance.
Zobrist is old and in decline. Here's his WAR over the last five years:
2011 – 8.7
2012 – 5.7
2013 – 5.0
2014 – 4.9
2015 – 1.9
Here's his UZR at second base the last five years:
2011 – 6.6
2012 – (3.1)
2013 – 10.0
2014 – 4.7
2015 – (6.7)
If you want to tell me Zobrist will be better than Murphy next year, I can't argue. But what about 2017? What about 2018? With all the teams interested, he could get a four year contract. Do you think a 40 year old Zobrist will be better than a 35 year old Murphy?
Just remember the Mets signed a 35 year old Michael Cuddyer last year, and now they have a $12.5 million bench player. This is the danger you face when you sign Zobrist.
Murphy is the safer bet going forward.