Revisionist's History on Murphy/Turner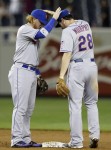 Before starting this post, I feel the need to re-state how much: (1) Daniel Murphy is one of my favorite all time Mets; (2) I think the Mets are better off re-signing him; and (3) I've defended him against unfair and untrue statements. If you don't believe me, I've taught my son he's the Mets second baseman.
However, with Murphy now all but gone, I wonder if the Mets made the right decision keeping him over Justin Turner. To be fair, it wasn't an either/or decision back in 2012 when the Mets non-tendered him. Furthermore, the Mets decided they would rather have Murphy as their everyday second baseman over Turner the prior year.
Now, Murphy and Turner are the same age. It appeared as if Murphy was the better everyday player while Turner was able to admirably be a utility player. There was no room for either at third with David Wright. Also, back then it appeared as if Ike Davis would be the first baseman for years to come. We knew it wasn't the right move to get rid of Turner. However, the question really is, should Turner have been playing over Murphy?
In 2011, Turner and Murphy basically played everyday due to injuries and the ineffectiveness of other options (see Brad Emaus). In 117 games, Turner hit .260/.334/.356. In 109 games, Murphy hit .320/.362/.448. Based upon those numbers, of course Murphy should've been the player the Mets wanted at second base. So yes, the Mets made the right decision there.
In 2012 and 2013, the Mets had a chance to reassess. Murphy hit .291/.332/.403 and .286/.319/.415 respectively while playing every day. In part time duty. Turner would hit .269/.319/.392 and .280/.319/.385. Again, it appears the Mets made the right decision.
So why now is there a question? First, there is a service time issue. Murphy is now a free agent, who may well be priced out of the Mets market (if they were interested). Second, after waving the Mets, Turner has been better than Murphy.
In Turner's two years in Los Angeles, he's hit .340/.404/.493 and .294/.370/.491. His WAR has been 4.2 and 3.9. Conversely, Murphy has hit .289/.332/.493 and .281/.322/.449. His WAR has been 1.9 and 1.4 respectively. By either measure, Turner has been a better player. To make matters worse, Murphy is a free agent and Turner will not be one until 2017.
The lesson here isn't that the Mets let the better player walk. The lesson here is that the Mets did a poor job with player analysis. That lead to them cutting Turner loose. The Mets could've used him in 2015 with all of the injuries. He could've been a viable Murphy alternative for 2016.
Instead, he's in Los Angeles, and we don't know where Murphy will play next year. If Murphy isn't re-signed, it may very well be another example of how the Mets don't scout well internally and/or value their own players enough.
The Mets better hope Murphy doesn't make them look as bad as Turner has. I think Murphy will.