Why Not Both Soria and O'Day?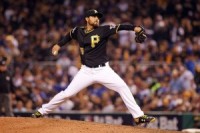 Unsurprisingly, the Mets have interest in both Darren O'Day and Joakim Soria. If you're looking for an elite setup guy, you're going to be interested in both players.
Soria is now three years removed from Tommy John surgery. In the four seasons prior to the one he was injured, Soria was an elite closer recording 132 saves with a 2.03 ERA and a 0.988 WHIP. He got injured, and he became a different player. Still a good closer/reliever, but not an elite closer.
After coming back from surgery, he went to Texas where he recorded 17 saves with a 3.16 ERA and a 1.043 WHIP in two years. He then signed with the Tigers, who seem desperate for relief help every year (sound familiar?). In two years, he recorded 24 saves with a 3.29 ERA and s 1.115 WHIP. When he was traded to the Pirates, he was terrific in the bullpen because he's a good pitcher and everyone is terrific in the Pirates bullpen. In 29 games he had a 2.03 ERA with a 1.163 WHIP.
With the Mets seeking an eighth inning reliever, Soria would be an upgrade over Addison Reed, who has a career 4.01 ERA and a 1.261 career WHIP. Soria is a huge upgrade. Soria is expected to receive a 2 year $14 million contract or $7 million per season. Reed is slated to receive $5.7 million in arbitration. Soria would be worth the $1.3 million increase.
O'Day appears like he will command a 3 year $21 million contract or $7 million per year. While I think the $7 million per year on both O'Day and Soria are fair estimates, the increased interest may bump those numbers up to around $8 million per season.
Right now, the Mets projected payroll is around $92 million with about $18 million left in the budget. Would it be wise to blow almost all of it on relievers? I think so. The current free agent market lacks the elite second base, shortstop, or center fielders who would improve the Mets offense. The Mets don't seem inclined to bring back Daniel Murphy.
The best solution might be to create an absolute shut down pitching staff. Going from the Mets elite starters to O'Day-Soria-Jeurys Familia will hold up any lead the Mets can muster. Also, keep in mind, the Mets will have full years from David Wright, Michael Conforto, and Travis d'Arnaud, which should offset the losses of Murphy and Yoenis Cespedes.
The Mets best approach to this offseason might be to create a shutdown bullpen to match their starting pitching. Bring on both O'Day and Soria.