Bullpen Needs "The Final Boss"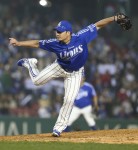 One of the Mets biggest mistakes last year might have been passing on the opportunity to obtain Jung Ho Kang. The Rookie of the Year candidate hit .287/.355/.461 in 126 games at SS. His WAR was 4.0. His UZR was 1.6 making him an average SS with a good bat. Basically, he was what the Mets hoped Wilmer Flores would be.
The Mets may now have the opportunity to add a Korean player, who could help them in the bullpen. Seung-hwan Oh is coming to the United States next week in search of an offer to pitch in the majors next year. Unlike Kang, Oh is a free agent so the team interested in him does not have to pay a posting fee to obtain his rights. Even with success in the Korean and Japanese leagues, the 33 year old closer is an unknown commodity. An unknown commodity who has recorded a 1.81 ERA and 10.7 K/9 in 11 professional seasons.
We don't know how those stats translate to the majors. What we do know is his stuff. He has what he calls a "Stone Fastball" which has a velocity between 92-94 MPH. He can add a little to it to get it up to 97 MPH. He also has a slider that he deviates the speeds between 80-89 MPH. He also has a curveball he throws in the 70s.
He has the type of arsenal that should work well in the majors. Overall, he's an unknown commodity who carries the burden of having had Tommy John surgery in 2001 and a second elbow surgery in 2010. His last contract earned him $4.15 million per season in Japan. If he asked for a similar contract, he would cost about half of what the elite set-up options cost in this market.
For what it's worth, here's some video of him pitching in Japan:
He certainly looks like he has the stuff to pitch in the majors. He's a risk, but he's got swagger. As stated above, he calls his fastball the "Stone Fastball." He goes by the nickname "The Final Boss." He at least sounds like the type of player and personality that could succeed in New York.
This Mets bullpen may just need one final boss. Oh is worth the risk.