Mets Are Not Getting Andrelton Simmons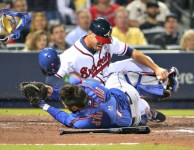 Last night, Jonah Keri broke the rumor that the Braves were discussing trading Andrelton Simmons to an NL West team. With him rumored to be on the block, and the Mets current SS situation, everyone wondered if the Mets would join the bidding.
Well, the Mets can join the bidding all they want. There's no deal to be had for Simmons. To their credit, the Mets tried to trade for Simmons last season before the trade deadline. While the names of the players were not disclosed, the Mets labeled Simmons as "basically unreachable." Well today, we found out why the Mets characterized Simmons as unreachable:
Braves seek to have one of mets big 4 starters included in a simmons deal. They have asked about matz in past. #simmons

— Jon Heyman (@JonHeyman) November 12, 2015
There's no way the Mets will trade one of their starting pitchers for Simmons. If the Mets do trade one of them, the names you'll hear is Mike Trout, Giancarlo Stanton, or Andrew MCutchen. Does anyone think those teams will be trading those players? That's exactly why the Mets won't trade their starting pitchers.
Now, I could create a realistic trade without the Mets starters, but that would involve the Mets taking on Michael Bourn's $14 million salary. Do you really see that happening? Neither do I. I could analyze whether it's a good idea or not to take on Simmons, but it's a moot point. Further, the addition of more interested teams will not lessen the Braves demands.
The Mets are not getting Andrelton Simmons.