Span Isn't Better Option Than Kirk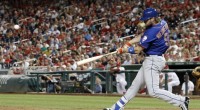 I'm not sure which plan the Mets are pursuing. Apparently, the Mets don't either. However, we do know the Mets are pursuing an outfielder who may or may not be in a platoon with Juan Lagares. Of all the options out there, Denard Span is not the answer.
While he's always been a starter, after three surgeries in two years, including a torn labrum in his hip, Span may accept being the left handed bat in a platoon. At 32, he may want to accept a one year deal to re-establish his value with one healthy productive season. Considering where the Mets are financially, it may seem like it's a good match.
Sure, Span has always been a good hitter. Over his career, he's hit .293/.353/.407. Last year, he hit .335/.393/.486. It would be a nice bat on the top of the lineup. The problem is he's no longer a good defensive player. The last two years his UZR was -4.7 and -4.9. That's not good. It's probably why despite good offensive numbers, Span has had a WAR of 0.8.
The Mets have an internal option that Mets fans don't respect in Kirk Nieuwenhuis. Nieuwenhuis had a nightmare of a year last year. He only hit .195/.270/.375. Guess what how WAR was last year. It was 0.7. Keep in mind, Nieuwenhuis has a career UZR in CF of 2.1. He averages a 0.5 UZR per season. As such, he's a capable CF. Additionally, he hits .245/.314/.423 against righties.
Yes, Span gets on base more often, but Nieuwenhuis has more power. Then there's the little fact that Nieuwenhuis can actually field his position. If the Mets want to spend to add an outfielder, they should spend the money to add the best outfielder available. If the Mets are not adding Jason Heyward, why bother?
At this point it's time to stop messing around with window dressing. If you're improving, go out and improve. Span isn't an improvement over what they have. Most Mets fans will tell you that's a bad thing.