Just Get Heyward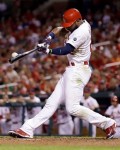 From reports, the Mets have about $20 million to spend this offseason. The free agent market is a dud. The Mets seem to want a left handed bat for CF to replace Daniel Murphy even though the options aren't really better than Juan Lagares.
In addition, the Mets bullpen will look good regardless of whether the Mets add a reliever or not. Their rotation is set for years to come. The Mets seem comfortable with the Murphy alternatives at second base. They seemingly just want that left-handed bat to balance out the lineup. With that in mind, they should just go out there and use their full budget on the best available player: Jason Heyward.
Heyward is a 25 year old outfielder who has yet to reach his prime. While he was with the Braves, he showed promise to be a power hitting outfielder hitting 27 homers in 2012. His numbers have not returned to that level. However, he's been a productive hitter slashing .268/.353/.431 for his career and .293/.359/.439 last year. As he heads towards his prime, you can reasonably expect those numbers to improve.
In addition to his solid, if unspectacular hitting, Heyward has a reputation for being a good defensive player. Unlike Gerardo Parra, Heyward's numbers match his reputation. Heyward won a deserved Gold Glove in 2014. He's deservingly a finalist for the award which will be announced tonight. Over the past four years, Heyward has posted a UZR over 20. That's definitively Gold Glove caliber.
The caveat is the Mets don't need a RF, they want a left handed hitting CF. in his career, Heyward has been limited to just 32 games in CF. In those games, his UZR is 1.9. This would indicate he would be at least average in CF. However, truth be told 32 games is too small a sample size to rely upon for anything in baseball. Basically, it's a gut decision. Can Heyward effectively handle CF for at least two years (Curtis Granderson has two years left on his deal)?
I believe he can (as do more reputable sources). I believe Heyward is a special player who just needs the right situation. Terry Collins has been good nurturing talent. Kevin Long had been good helping hitters find their swing. The Mets have a good locker room in general. This may be the ideal situation for Heyward even if he's not playing at his preferred position.
He's projected to receive about an 8 year $184 million contract. At the end of said contract, he would only be 33 years old. Translation: you've locked up a very good player for a reasonable price throughout his prime. You don't have to pay for the down years like you typically do in a long term contract.
If the Mets are truly serious about contending in 2016, this is the move to make. Get Heyward in here and watch him blossom into the star we all thought he was when he was first brought up by the Braves. It's rare you get the opportunity that helps you win now and in the future. The Mets have to seize that opportunity even if he's the only player the Mets sign this offseason.
The Mets should sign Heyward.