Hot Stove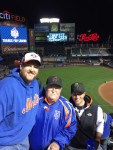 This morning my son woke me up early, very early, by sitting on my chest and yelling, "DADDY WAKE UP!" I'm starting to come down sick. Despite all of this, I'm going to have to shovel about a foot of snow. So, how am I feeling this morning?
AWESOME! Yoenis Cespedes re-signed with the Mets. He turned down more money because he wanted to play for the Mets, for us fans. This never happens. Usually, like with Carlos Beltran, the Mets had to be the highest bidder in order to get the player. Again, this never happens.
Furthermore, the Mets spent $27.5 million in the first year to get him. They gave him a no trade clause. They offered him an opt out. His contract is the fifth highest in Mets history and the highest single season salary in Mets history. The Mets made him the second highest paid position player next year. The Mets front-loaded his three year $75 million contract. The Wilpons spent to improve the team.
Right now, there is no reason for any Mets fan to complain. Sure, you can miss players like Daniel Murphy. However, there is no reason to complain if you're a fan. Alejandro De Aza may feel differently, but I'm pretty sure fans are alright with that.
Today, it doesn't get any better being a Mets fan. The fans were always all-in, and now the team is all-in as well. Today, as it continuously snows leaving us all trapped inside, the Mets have not had a sunnier outlook. Instead of thinking of shoveling, Mets fans are thinking of watching a World Series favorite playing baseball on warm summer nights.
I'm not putting on my snow clothes to go outside today. No, I'm putting on the same clothes I will be wearing this October in Citi Field. What a great day.
LETS GO METS!