Stay the Course on Cespedes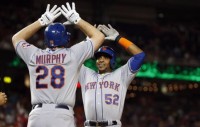 Overall, it's apparent that the Mets do not see Yoenis Cespedes as a part of their 2015 plans. They've gone in another direction to address their offseason needs. While it's rumored the Mets have a 2-3 year offer out to Cespedes, it's apparent he's not taking it. The Mets could increase that offer to sign Cespedes, but they do not seem inclined to do it. Well it seems the Mets resolve is going to be tested.
As Ken Rosenthal reports, the Nationals are pursuing Cespedes. Apparently, Cespedes is the Nationals next option after they missed out on Jason Heyward and Justin Upton. They are still interested even after trading for Ben Revere. The Nationals have made Cespedes an offer that's less than the six year $132.75 million deal Upton received.
If Cespedes joins Daniel Murphy in Washington, there's going to be a riot amongst the fan base. The backlash is going to be very ugly. Signing Cespedes could theoretically tip the scales in the Nationals favor with them now being favorites to win the NL East. With all that said, the Mets have to stay the course.
Alderson believes Cespedes is a square peg in a round hole. Essentially, he doesn't see Cespedes as a centerfielder, and he's right. What you're willing to put up with for three months may not be what you will put up for a full season, let alone for three to five years.
If you truly believe Cespedes isn't worth a four year deal, and he can't play CF, you have to pass. You pass even if it means he goes to your biggest threat in the division. If you think Cespedes is not a CF, and you think he will be a problem if he receives a contract longer than three years, who better than your biggest competition to make that mistake?
Most Mets fans will not agree with this decision. At the end of the day, that's not Sandy Alderson's main concern. His concern is to build a winner in 2016 and beyond. There may be mitigating factors, but at the end of the day, you try to make things work that fit into your parameters. If they stray from that, you need to walk away. Unfortunately, it seems like when the Mets walk away again, their #3 and #4 hitters will play in Washington.
The Mets need to ignore that fact and move on. They need to not care where Cespedes winds up. They need to do what is best for this team. They need to spend more money in other areas to improve the team in other ways.
Ultimately, the Mets are just going to have to stay the course.