Picking My Son's New Favorite Met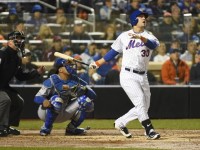 With Daniel Murphy signing with the Nationals, my son has to find a new favorite Met. Honestly, I didn't steer him in the direction of Murphy. I wouldn't because I knew he might be gone. Initially, his favorite player was Lucas Duda, but somewhere that changed.
Some of it might have been my personal feelings towards Murphy. I was always a huge fan of his. Don't get me wrong, I'm a big fan of Duda, but Murphy was my favorite Met.
Now, Matt Harvey is my favorite Met. He was the one that gave us all hope. I will always appreciate him for what he did in Game Five of the World Series. With that said, I don't want him to become my son's favorite player. The main reason is Harvey will be a free agent in 2019. That's not that far away, and I would prefer for him to root for a player who will be around longer than that. With that said, I've narrowed it down to three choices:
I honestly picked these three guys because they broke into the majors last year, and as a natural extension, should be around the longest. Each have their own separate pull.
I like Matz because my son and I attended his first ever game. He's a lifelong Mets fan who actually became a Met. He's a left-handed pitcher, and any motivation I can use to get my son to throw left-handed is an added benefit.
Thor has the cool nickname, and he looks like the real deal. It's easy to get a kid excited about a guy who throws 100 MPH and strikes a lot of guys out. I could also play this Pedro Martinez clip incessantly:
If you don't think a two year old boy wouldn't find it fun and hilarious to run around screaming, "THOR!" all day, you're nuts.
The last option is Conforto. Conforto burst on the scene and played better than fans either reasonably or inreasonably expected. He hits left-handed as my son does now (Murphy left an impression). He's an everyday player, which is a huge benefit. First, pitchers are more prone to have injuries that could leave them out for extended time or possibly be career threatening. Most importantly, when I bring my son to a game, it is more likely than Conforto will play. I don't have to count every five days and hope there are no spot starts or skipped starts so he can see his favorite player.
With that said, I think I'm going to spend Spring Training trying to convert my son into a Conforto fan. If the past is any judge, he will select a player on his own. With that said, he may very well choose Conforto as his new favorite Met all on his own. That would be even better.
No matter what happens, I'm playing that Thor clip constantly because to me having him scream "THOR!" will be hilarious. I ask for my wife's forgiveness in advance.