Thor Should Start on Opening Day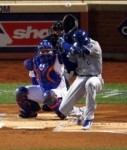 Honestly, I believe it's too early to start naming Opening Day starters, but teams are already doing it. I guess when you're the Diamondbacks it's easy. When you're the Mets with a loaded pitching staff, it's a much more interesting question.
The first choice would be Jacob deGrom. He had the best year out of any Mets starter last year. He was the story of last year's All Star Game. He was terrific in the NLDS. Also, he was supposed to be the Game Sux starter. Starting him in Kansas City would be the Mets way of saying we're picking up where we left off, and we're heading back to the World Series.
The next choice is Matt Harvey. In many ways, he's the presumptive ace. He's the guy that burst on the scene in 2013 giving the Mets fans hope this all was coming. He's another year removed from Tommy John surgery, and the second year back is normally when a pitcher excels. He ended his year with an incredible Game Five performance. Starting Harvey in Kansas City is saying you're not going to beat us again.
With all that said, I start Noah Syndergaard on Opening Day. The message is plain and simple. We're not backing down this year from anyone. This was a 23 year old rookie pitcher who toed the rubber at the first ever World Series game at Citi Field, and this was his first pitch:
https://m.youtube.com/watch?v=FMbpt_TtDro
When the Royals complained about the pitch, Thor told them to meet him at the mound. His presence on the mound alone is saying to the baseball world the Mets are intimidated by no one, and they're back fighting to win 2016. If you have a problem with that, you know where to find them. The story line won't be about the Royals getting their rings. Instead, it'll be about how the Royals will handle Thor.
We want the 2016 season to be about the Mets and their pitching staff. We want it to be about the Mets responding to last year's World Series loss by beating and intimidating other teams. You want all of baseball to look at this staff and wonder how they're going to beat the Mets. This needs to be the story from day one. Let Terry Collins explain he's starting the guy who beat the Royals last year. However he presents it, the most important thing is that we all know the Mets are going out there looking to get into their opponents' heads with their pitching.
That starts day one. That's why you start Thor on Opening Day.