Be Quiet KC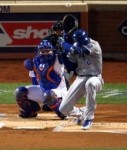 There's an old saying, "Those who live in glass houses shouldn't throw stones." After losing to the Mets 9-3 yesterday, the sound you heard was glass breaking, or whining you decide.
Let's rewind before the series. Daniel Murphy was the hottest hitter on the planet. When asked about how to pitch to him, here's how Dave Eiland, the Royals pitching coach, responded, "He stands very close to the plate. I'll leave it at that." In Game 1, Murphy was pounded inside including this pitch from Edison Volquez: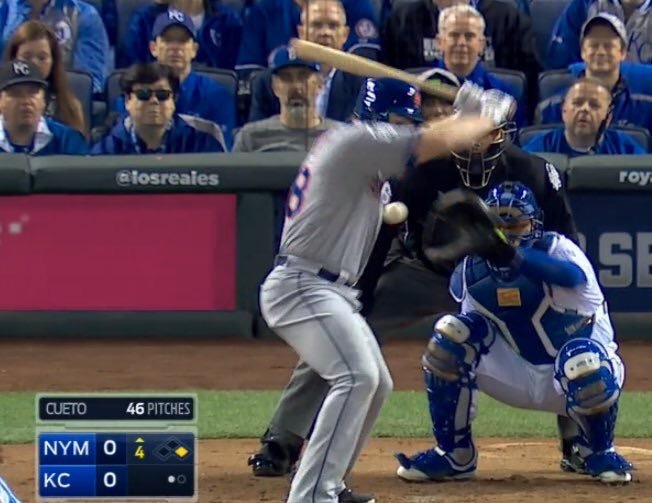 Since Game 1, the Royals have continued pounding Murphy inside. It's baseball.
Now coming into the World Series, Alcides Escobar was the American League version of Daniel Murphy. He was coming off an ALCS where he hit .478/.481./.652. The Royals leadoff hitter swung at the first pitch of every game. According to the official scorer, he lead off Game 1 of the World Series with an inside the park homerun.
Both he and the Royals have been comfortable at the plate. In Game 2, the Royals were very comfortable at the plate winning 7-1. To combat this, Noah Syndergaard said he would "have a few tricks up [his] sleeve" to deal with the free swinging Escobar and the Royals. Here was Syndergaard's first pitch:
Here's the still of where the ball was when it passed by Escobar: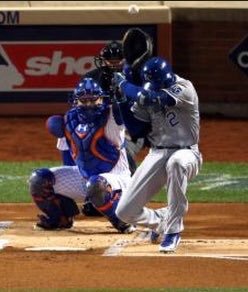 Escobar would strike out in the at bat. He would strike out twice. The Royals lost 9-3. After a loss like that, any team would be upset. The Royals were no exception. However, I was startled by the reason. They thought Syndergaard was head hunting.
Escobar accused Syndergaard of throwing at his head. The whole team felt that Syndergaard was head hunting. For his part Syndergaard said it was the plan to go high and tight first pitch and then to drop a curveball. He would strike out out Escobar on the first pitch. When Syndergaard was informed of the Royals objections, his response was perfect:
"If they have a problem with me throwing inside, than they can meet me 60 feet, 6 inches away." Noah Syndergaard @Mets #WorldSeries

— Linda Cohn (@lindacohn) October 31, 2015
Now, I will never, ever defend head hunting. Personally, I have called out the Mets for bush league tactics. Syndergaard responsibly threw inside yesterday. It was above Escobar's head and the ball never entered the batter's box. Syndergaard was just keeping a red hot Escobar uncomfortable.
If Kansas City has a problem with that maybe they shouldn't have thrown at Murphy like they inferred they would do. Until they stop throwing in high and tight on Murphy, they can be quiet.