Hansel Robles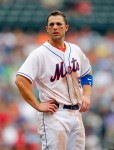 As of today, the Mets 40 man roster is full with Erik Goeddel and David Wright on the 60 day DL. Since players on the 60 day DL do not count towards the 40 man roster, two players will have to be removed from the 40 man before Goeddel and Wright can be added.
The first decision could potentially come on August 11th, when Goeddel is first eligible to come off the DL. The Mets can send down Hansel Robles, who has options, but that only solves the 25 man roster issue. As of today, here are the people who are on the 40 man roster, who are also not on the 25 man roster:
In deciding who to remove, there are a couple of important factors to take into account:
This player will be exposed on waivers allowing any team to claim that player, and
A player must be on the 40 man roster as of August 31st to be eligible for the postseason roster (there are loopholes however).
Immediately, you can rule out the pitchers. They're young, under control, and will be snatched up by another team . . . even Vic Black. That leaves eight players for two spots.
Next, we can eliminate Michael Cuddyer and Kirk Nieuwenhuis from consideration. Cuddyer is set to come off the DL soon. Nieuwenhuis is a possibility, albeit remote right now for the postseason roster. We're done to six players.
I would next eliminate Dilson Herrera, who is seen as the second baseman of the future. This is especially important with Daniel Murphy, Kelly Johnson, and Juan Uribe set to be free agents. We're down to five players: Monell, Recker, Muno, Tovar, and Ceciliani.  Here's where things get tricky. You can make cases for all of these players to stay or go.
I'll start with the catchers, who have been awful this year . . . absolutely terrible. I'm expecting the Mets to move on from both of these players in the offseason. However, we need to remember Travis d'Arnaud has been injury prone. You don't want to him to go down and have no playoff replacement. At a a minimum, one catcher must stay on the roster. Possibly both.
Up next are the young middle infielders. Admittedly, they have both been pretty bad in very limited major league experience. Accordingly, you can't use that experience as the sole reason to outright that player. It should be noted neither player is a top prospect in the Mets organization. I think both are candidates, specifically Tovar, who is behind Matt Reynolds, Gavin Cecchini, and Amed Rosario on the organization's SS depth chart.
Finally, we have Ceciliani, who played decently with the Mets this year (even if he was a little exposed). It should be noted he was passed over in the last two Rule Five Drafts.  I don't imagine his limited playing time changed the minds of the other 29 teams.  Furthermore, with Nieuwenhuis being on the bubble for the postseason roster, there's no chance he would even see the field. In my opinion, this makes him the most vulnerable.
Now, I have no connections whatsoever, but I would believe Ceciliani and Monell are the two players who will be moved to make room for Goeddel and Wright. You could easily interchange that for Recker and Ceciliani or one of the middle infielders.  However, I think Ceciliani and Monell are the two least  regarded players on this list.
Further complicating matters is Rafael Montero, who is also on the 60 day DL. Terry Collins recently went to talk to Montero to encourage him to ramp up his rehab so he can help the team.  If Montero is coming back, the Mets are going to have to make yet another roster move.  I believe at this time, the middle infielders would definitively be in danger of being removed from the 40 man roster.  My guess would be Tovar, but then again, I could be wrong.
The only way to avoid removing anyone, and risking losing a player, is to make a trade with another team.  The problem there is if these players had value to other teams, they would have been moved already.  Specifically to Ceciliani, we've seen teams pass on him a number of times.  There is also the possibility that the player to be named later in the Eric O'Flaherty deal is one of the aforementioned 15 players making part of this post moot.  However, I think that is unlikely.
Overall, the Mets have a lot of important decisions to make with an eye towards who they want on the postseason roster.  It's fun to be a Mets fan again.